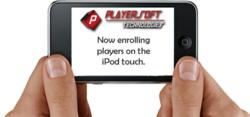 Our interactive products are getting great recognition and our service is creating client loyalty.
San Diego, CA (PRWEB) April 30, 2013
Playersoft's suite of products will be on display at the Southern Gaming Summit in Biloxi, MS, May 8-9. It will be an opportunity for the company to display its Mobile Enrollment platform, winner of two awards in 2012 for its innovative approach to player enrollment, in addition to its compatible integrated products focused on mobility and customer service.
In October, Gaming and Leisure Magazine awarded Playersoft's Mobile Enrollment platform its coveted Platinum Award identifying it as best product of the year and that accolade was followed by Casino Journal in March which recognized the platform as one of its Top 20 Most Innovative Gaming Technology Products for 2012.
"We've been very pleased with the reception from the industry press, but more importantly from casino operators of every size," said Tony de Leon, Playersoft's president. "Winning the awards has certainly helped put us on the map and we're seeing the benefit from the amount of interest we've received."
Playersoft has experienced rapid growth expanding its client base to seven states including casino operators on the Las Vegas Strip, Native American gaming locations and the Bahamas.
"Mobile Enrollment has received a lot of attention," said Larry McCoy, Vice-President of Sales & Business Development. "But we have a suite of products which seamlessly integrate and address all facets of a casino operator's needs."
Group Tracker, Playersoft's newest product, was introduced in February and uses mobile iPod touch tools to check-in and manage bus patrons and other groups of any size. Quickly checking in group players and issuing offers on the mobile platform as they arrive allows players to head straight to the casino floor without standing in line. Group Tracker also has a variety of tools which allows for segmenting and tracking groups of any size. Advanced analytics with Group Tracker allow management to track every aspect of a group from commissions and costs, to the play associated with the group, allowing real time profitability reporting.
"All of our systems are intuitive and dovetail with any existing casino system currently used," said de Leon. "But we've not only made it easy to enroll and track guests at any point of contact, we've created a product to help casino hosts identify players in real time."
Playersoft's Host Player Management System (HPM), provides an intuitive platform which can track players through a mobile device or from an executive's desktop computer. It allows the casino to track and sort play by coin-in, amounts played, and can tell the operator which machine or table the player is sitting at in real time.
"Mobile Enrollment and Group Tracker are great products built to work together," said McCoy. "Our Host Management System takes all of the information they gather and helps the operator make use of it and that interprets into profitability."
The executives of Playersoft all come from casino operations backgrounds from both Las Vegas resorts and Native American gaming operations and know the importance of making the player's visit convenient and hassle free regardless of a property's size. Playersoft's suite of products can be seen at the Southern Gaming Summit in Biloxi, MS, May 8-9 at the Mississippi Coast Coliseum and Convention Center, Booth 210.