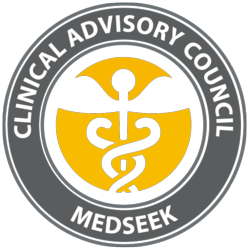 "Partnering with such respected healthcare executives gives us expert guidance in further enhancing our solutions to help patients make better health-related decisions to live longer, healthier lives," states Peter Kuhn, MEDSEEK CEO."
Birmingham, AL (PRWEB) April 30, 2013
MEDSEEK, the only provider of a comprehensive patient influence platform for the healthcare industry, held its inaugural Clinical Advisory Council meeting this month in Austin, Texas. The Council was formed to collaboratively partner with healthcare executives to advance patient engagement and a patient-centered approach to care using technology.
The Clinical Advisory Council is an exclusive, multidisciplinary group of clinical executives and physicians from across North America who provide valuable insight into the significant issues facing the healthcare community and its patients. Distinguished executives such as Chief Medical Information Officers, a System Vice President, a Chief Medical Officer, a Medical Director, a Vice President of Performance Excellence and Technology and more gathered to help MEDSEEK determine how technology can best support healthcare's needs and advance enhance patient engagement.
"We are taking a proactive approach by seeking input from these clinical leaders," states Peter Kuhn, MEDSEEK CEO. "Partnering with such respected healthcare executives gives us expert guidance in further enhancing our solutions to help patients make better health-related decisions to live longer, healthier lives."
Clinical Advisory Council members are encouraged to continually submit feedback to MEDSEEK on how the solutions and vision can be improved to better meet the current state and future needs of healthcare. To foster regular collaboration among the group, the Clinical Advisory Council will meet annually in person with other teleconference meetings as needed throughout the year. Moving forward, the group will gather for their meeting while at MEDSEEK's eHealth Council conference which will be held this September in Charleston, South Carolina.
To enhance your knowledge about MEDSEEK's executive event, eHealth Council, or to learn more about influencing your patients for better outcomes, contact marketing(at)medseek(dot)com.
About MEDSEEK
Since 1996, MEDSEEK has focused exclusively on building software to help hospitals and health systems virtually influence prospects and patients before and after a physical encounter. Today, the MEDSEEK Influence platform integrates web, mobile, social, predictive analytics and relationship management solutions to help organizations drive profitable volume, improve individual and population health, increase patient satisfaction and create lasting health-related loyalty. Birmingham, Alabama-based MEDSEEK is proud to serve over 200 customers representing over 1,000 hospitals including many of the top hospital systems in the United States and Canada.