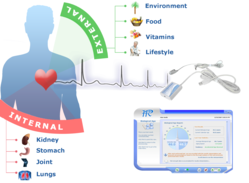 Health Reviser enabled health data exchange services with secured storage on cloud
Seattle, WA (PRWEB) April 30, 2013
Health Reviser cloud storage is designed to work seamlessly with all family computers connected to the Internet. For example, personal Health Reviser license allows father to access Health Snapshot from work, while at the same time mother can launch Stress Monitor on her laptop in a café, and children can check their fitness levels at the gym. And all the results are automatically saved on the cloud and synchronized between all the computers.
Test results can also be shared with a family health practitioner and viewed from his desk, thereby enabling the health practitioner to provide feedback or give comments on any of the reports. The feedback can be delivered instantly to the recipients.
Online cloud services is a long-awaited feature made available to all users, eliminating the need for the user to maintain and back up all their health history on the hard drive, or save in a printed format. Virtually unlimited online storage is now saving all user reports at no additional cost to Health Reviser users. This simple solution bridges all the security, regulatory and authentication requirements to protect user privacy.
The new version of Health Reviser with online cloud services is now available to all users via automatic software updates. Once updated, the application will begin using new features automatically without any user intervention.
To read more about Health Reviser, visit http://www.healthreviser.com
About the Company
Health Reviser is a team of software and hardware development engineers, skilled therapists and medical doctors. The team has more than 18 years of experience in the development of health monitoring and diagnosis systems. Health Reviser was created as a product that is affordable and usable for professionals as well as consumers with a lack of medical knowledge. Health Reviser specialists are actively participating in numerous studies and health research projects in USA and around the world, helping MARS-500 mission and cooperating with various domestic and international Universities.