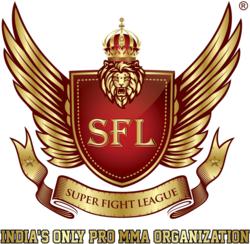 I am proud of how rapidly we are growing each division and growing the sport of MMA within India. Lashley is a BIG name here in India due to his WWE fame and we are excited to be the ones to showcase his MMA talents to the people of India. - Dan Isaac
Mumbai, India (PRWEB) April 30, 2013
Pearls Super Fight League announced today that it has signed three heavyweights, namely Bobby Lashley (7-2 in MMA) and Singh "Heart" Jaideep (0-0 in MMA, 40-16 in K-1). Lashley, a former World Wrestling Entertainment (WWE) heavyweight champion who is currently 7-2 in Mixed Martial Arts (MMA) has signed a multi-year exclusive agreement and will make his return to India with the Pearls Super Fight League promotion in Mumbai, India on Friday, 7th June 2013.
Lashley is fighting out of American Top Team Altitude in Denver, Colorado. During his professional wrestling career, he was best known for his time in World Wrestling Entertainment (WWE), where he was a one-time United States Champion and a two-time world champion, having also had two reigns as ECW World Champion.
Bobby 'The Dominator' Lashley previously fought for the promotion at SFL 3 where he came up short on the judge's scorecards against former PRIDE star James Thompson.
"I'm looking forward to fighting in India for Pearls Super Fight League and continuing my climb in Mixed Martial Arts. I was honored with the welcome that the Indian fans gave me at SFL 3 last year and I was excited when the opportunity to return arose." said Lashley.
Pearls Super Fight League also signed K-1 Champion Singh Jaideep. Jaideep was born in India and has been fighting out of Japan. He was crowned the K-1 Grand Prix Champion in 2009. Jaideep will be making his MMA debut inside the Pearls SFL 'O'Zone. Along with Jaideep and Lashley, Pearls Super Fight League also announced the signing of 6'7" heavyweight and training partner of Bobby Lashley, Alex Huddleston
Dan Isaac COO and Matchmaker for Pearls Super Fight League said, "I am proud of how rapidly we are growing each division and growing the sport of MMA within India. Lashley is a BIG name here in India due to his WWE fame and we are excited to be the ones to showcase his MMA talents to the people of India."
The SFL is no stranger to big heavyweight fights and the signing of these rising stars in the sport of MMA the division continues to strengthen.
Super Fight League Chairman Raj Kundra said, "We are excited to welcome these heavyweights to Pearls Super Fight League. I am very proud of what my team has accomplished in such a short amount of time, from the ESPN deal to Mountain Dew we continue to grow at a rapid pace." He continued, "Pearls SFL reaches 100 million homes through ESPN STAR Sports and hundreds of millions on YouTube.com/SFL. We are certain Mr. Lashley will help increase the numbers of those that tune in."
About Super Fight League
Super Fight League is Asia's leading Mixed Martial Arts organization with shows appearing on ESPN STAR sports. Over the past decade, with the guidance of state athletic commissions throughout the United States, Mixed Martial Arts has developed from a spectacle into a highly respected sport with a global audience. Major fights between world-renowned Mixed Martial Arts superstars are among the most popular sporting events of the year, surpassing pay-per-view records of boxing and professional wrestling.
Sports fans around the World have made their voices heard, they want a sense of real competition when they watch sports, and MMA delivers. The Super Fight League brings Mixed Martial Arts to India and it brings it the world through its partnership with YouTube.com. MMA fans can catch all Super Fight League events live and for free on TV in India and YouTube elsewhere in the world.
Raj Kundra and Sanjay Dutt founded Super Fight League in 2012. Both men are proven leaders in Sports and Entertainment in India and both are well respected and successful Entrepreneurs. Collectively they have become dominant forces in India's Bollywood and Cricket scene and now Mixed Martial Arts.
Website: http://www.superfightleague.com
YouTube: YouTube.com/SFL
Twitter: Twitter.com/TheFightLeague
Facebook: Facebook.com/SuperFightLeague
Media Contact:
Ingrained Media: Bob(at)ingrainedmedia(dot)com