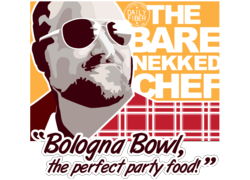 New York, NY (PRWEB) April 30, 2013
The Bare Nekked Chef is a light hearted redneck spoof of Jamie Oliver's 'Naked Chef', wherein host Raymond Ray (no kin to Rachel Ray) makes simply odd and easy eats that only a bachelor could consider gourmet. The first four episodes featured such guy food fare as The Bologna Bowl, Hand Spaghetti, The Mornin' Muggie, and Boneless BBQ Baby Food. Surrounded in every episode by partying girl friends, host Raymond Ray explains that each recipe is "the perfect party food, so you can eat and keep drinkin."
The new episodes will be "Bare Nekked Nibbles", quick one minute segments that show the audience a trick for making life a bit easier in the kitchen, redneck bachelor style. Hosted by Raymond Ray and featuring a rotation of his beautiful female friends and the comedy they create, the Nibbles episodes directed by Lon Strickland streamline the comedy for quick mobile device consumption. New full recipe episodes will also be included in the series.
The series will be released the first Tuesday of every month (see schedule below). "The Bare Nekked Chef has been a fan favorite since it first came out in 2010," says Daily Fiber Films co-owner Mark Nickelsburg, "and we are happy to finally give him regularly scheduled programming and a full series."
Additional Information:
Official YouTube Channel:
http://www.youtube.com/user/DailyFiberFilms
Photos, Production Stills, and Teasers:
https://www.facebook.com/DailyFiberFilmsComedyVideos
Episode Release Dates:
May 7, 2013- Episode 1
June 4, 2013- Episode 2
July 5, 2013- Episode 3
August, 2013- Episode 4
September 10, 2013- Episode 5
October 8, 2013- Episode 6
November 5, 2013- Episode 7
December 10, 2013- Episode 8