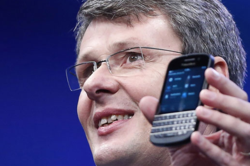 Our MPA for BlackBerry 10 solution fits their bill and puts intel, data and closer communications at their fingertips.
Toronto, Ontario (PRWEB) April 30, 2013
More small law enforcement agencies are adopting BlackBerry as their secure mobile data platform. As the 'early majority' players in the mobile law enforcement market, they are taking advantage of better technology at a lower cost compared to early adopters with ruggedized laptops in the field. For the cost of a single laptop-equipped vehicle, smaller agencies can equip twenty or more field staff with BlackBerry devices as well as Mobile Innovations data and other solutions on their existing data plans. They can equip five vehicles with mobile PlayBook offices for the same cost. They can also take advantage of new productivity boosters like enterprise voice-to-text reporting.
Known as the go-to BlackBerry and PlayBook apps provider for large police services in Canada and the UK, and agencies with larger fleets and jurisdictions, Mobile Innovations is seeing new interest from solution-hungry customers in smaller centres like Cobourg, where the police service is rolling out the BlackBerry platform.
Like other non-urban agencies, they chose Blackberry as the most secure platform for mobile voice, apps, data and email, comprised of:

A broad mix of apps and turnkey solutions including Dictation and Mobile Office
Solutions for BlackBerry Z10, Q10 and PlayBook
A friendly interface with a crisp user experience
ROI-proven, secure and scalable solutions and apps
Turnkey solutions with no monthly user fees.
Mobile Innovations President and founder Gary Bauer and the company's CTO Geof Bosworth will be meeting with Chiefs of Police at the upcoming Niche User Group Conference and BlackBerry Live 2013, as well as between the two events.
"Our customers in smaller communities have much wider territories to patrol, with tighter budgets and fewer staff." says Bauer. "Our BlackBerry solution fits their bill and puts intel, data and closer communications at the fingertips of their entire field staff for a fractional cost no matter where they are."
If you would like to speak directly with Gary Bauer or Geof Bosworth regarding MPADictation, MPANICHE or MPAMobileOffice, you can do so at the NICHE User Group Conference or BlackBerry Live:
Niche Users Group Conference 2013:
May 6th – 9th, 2013,
Toronto, Ontario
BlackBerry Live 2013:
May 13th - 16th 2013
Orlando, Florida.
###
For more information, please contact:
Gary Bauer – President
Mobile: 1-416-889-9997
Email: garyb&(at)mobinnoco(dot)com
Mobile Innovations is a privately held company dedicated to enhancing productivity with the most advanced mobile data products available. Based in Niagara Falls, Canada, Mobile Innovations also has operations in Toronto and works with over sixty clients across Canada, the United States and in the United Kingdom. Mobile Innovations is a member of the BlackBerry® Alliance Program with seven years of service developing and deploying advanced mobile solutions for BlackBerry devices.