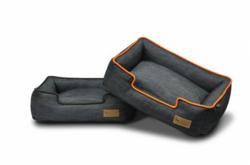 Not Your Average Neighborhood Dog Wash. Not Your Average Neighborhood Pet Store.
San Francisco, CA (PRWEB) April 30, 2013
Pet products continue to improve in both quality and design, as pets are increasingly viewed as an integral part of the family unit. Pet nutrition, hygiene and even style are getting closer and closer to their human counterparts.
One product, in particular, is bedding. The days when a basic wood structure of a doghouse in the backyard served as a dog's respite are gone, being replaced with luxury pet bed options with materials like Eco-friendly fill and furniture-grade covers with velvety soft finishes.
The exceptional design details are really what set these beds apart from one another. Ranging from fun and whimsical to clean and contemporary, customers have a wide selection of patterns to choose from that will complement their personal style and their home's decor. Even better, some customers may choose to let their pup's personality shine by letting them choose their own design!
Many manufacturers understand that design is only part of the equation. In order to make a truly durable pet bed, focus must be placed on the construction and making it easy to clean. For that reason, K9 Scrub Club places a strong focus on how a pet bed is designed, and also on how it performs. Features such as double-stitching, removable covers and stain resistance are all part of the purchasing process and help determine whether or not a bed is above-standard and a good choice to add to their product offering. Also important is how Eco-friendly the materials are. The team looks for products that use recycled fill as a primary source.
Bedding is changed seasonally to keep the designs fresh and to give customers new options. K9 Scrub Club offers free shipping for San Francisco customers.
You can find their complete selection online, with new items added daily, at k9scrubclub.com or in the Noe Valley location:
K9 Scrub Club
1734 Church Street
San Francisco, CA 94131
415 648-2582