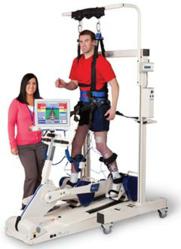 Riverdale, NJ (PRWEB) April 30, 2013
Wednesday, May 1, 2013, Push to Walk will officially be the fifth center in the United States to obtain an RT600. Restorative Therapies, the manufacturer, will be delivering the equipment and providing a three day introductory course for all training staff to ensure proper use.
"The RT600 Step and Stand System is the world's first and only FES stepping system. This cutting edge therapy allows patients to bear weight and take steps using their own muscle power. Having used the RT600 myself, I know firsthand the impact it can have for a patient with a neurological condition," says Matt Courson, Restorative Therapies Clinical Representative.
The non-profit keeps a wish list of equipment and the RT600 has been at the top of the list, but was a distant goal. In the last six months a donor kindly offered to provide funding for half of the cost for that specific piece.
"I hope that the RT600 will help Push to Walk in continuing to assist those with spinal cord injuries to regain function and independence," states the donor who wishes to remain anonymous.
Push to Walk has rapidly grown in the last year and obtaining the RT600 is exciting not only for the organization, but for our clients.
Push to Walk is able to cover about 65% of its operating costs through client fees, but relies on fundraising events to help make up the difference and to purchase new equipment.
"Our clients come to us because they see an improvement in their quality of life. We work hard to provide state of the art equipment for them at Push to Walk and are grateful to our donor for helping us to make this dream piece of equipment a reality," explains Cynthia Templeton, President of Push to Walk.
Push to Walk uses exercise trainers certified in methods known to help people regain strength, function and independence and provide one-on-one workouts to their clients. The next closest facilities of this kind are located in Boston and North Carolina.
Donation opportunities are available on the Push to Walk website: http://www.pushtowalknj.org. For more information, please contact Stephanie Lajam at (862) 200-5848 or slajam(at)pushtowalknj(dot)org.
#####
About Push to Walk
Founded in 2007, Push to Walk is an organization that provides individualized workouts and resources to people with spinal cord injuries and other forms of paralysis to optimize current quality of life and to prepare for future medical advancements. It is the only program of its kind in the New York- New Jersey area. Push to Walk's rigorous one-on-one workout approach challenges clients to reach their personal goals and achieve maximum independence, leading to greater success and fulfillment in their personal and professional lives. Push to Walk is only able to cover about 65% of its operating costs through client fees, and relies on grants and fundraising events to help make up the difference. A 501(C)3 non-profit, Push to Walk is located in Riverdale, New Jersey. Visit http://www.pushtowalknj.org to learn more.
About Restorative Therapies
With Restorative Therapies, you can count on technical innovation and world-class design, productive research and clinical relationships and ongoing commitment to our customers. At Restorative Therapies we want to help you do more than you ever expected. We're committed to delivering revolutionary electrical stimulation devices and therapies to help you stay active and stay ready. It's our mission to help you to achieve your full potential and provide you with the best therapies, services and support. Restorative Therapies has more experience and data on FES powered systems than any other company.