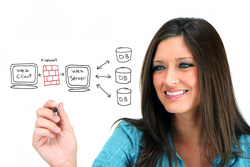 I would like to thank you for the wonderful work that you have done for my web-site. I have had numerous compliments from customers and feel it has enhanced the portrayal of my business. Landscaping Company in Stouffville
Markham, Ontario (PRWEB) April 30, 2013
Web development, which once was a complex and expensive undertaking, can now be a fairly simple and affordable website design process, even for a small business. By utilizing the impressive functionality of WordPress, small business owners can utilize the power of WordPress for only a fraction of the cost, only a few short years ago.
Why should a business consider using a WordPress design? For one, the built-in website Content Management System aspect allows those that want to update their web pages, the ability to do just that – update portions of their own website. Updating one's site can be a fairly easy process to learn for those that want to take some control of their site maintenance.
Another reason to consider WordPress for a company website is search engine optimization. There are many SEO plugins which are available to help make WordPress pages search engine friendly. The easier it is for a search engine to know more about a business via "crawling" the company website, the easier it will be to index the site and help those that are looking for any particular business's products and services via Google and other search engines.
Another huge reason to consider WordPress is the built-in blogging features. Now businesses can post important information on their WordPress blog thereby communicating publicly with customers and loyal followers. Allowing the public to post to the company blog is an invaluable way of determining how well a company is doing by assessing the feedback obtained by the blog.
Finally, although there are at least a dozen more reason actually, our favorite one is how flexible and easy it is to have a WordPress site grow along with the business as it grows. Adding web pages, updating web pages etc, is a simple process whether it is done by the company or managed by a development company like IFM.
IFM Web Services offers WordPress development, Social Media Optimizing, Search Engine Optimization and standard Web Design services. Located in the Toronto area (GTA), IFM has helped business achieve an effective online presence and has helped clients as far away as Bermuda and Mexico. For more on Social Media, SEO or Web Design for businesses, visit IFM at http://www.ifm.ca