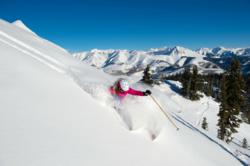 This has got to be one of the best values in Colorado skiing
Mt. Crested Butte, Colo. (PRWEB) April 30, 2013
Crested Butte Mountain Resort (CBMR) has officially announced its pass pricing for the 2013-2014 winter season. After considerable analysis, the resort has decided to completely restructure their previous pass pricing model. The resort is now offering the Peak Pass with prices for adult passes starting at $599. The Peak Pass includes unlimited skiing and riding at the resort with no blackout dates and guests can upgrade to the Peak Pass+ to include Adventure Park access and 2014 summer lift access. As part of the restructure, the resort is also planning on eliminating many of their previous Mountain Card and limited-use products.
"We are hoping that this new pass strategy will really get the market excited about skiing and riding in Crested Butte," says Ethan Mueller, vice president and general manager of CBMR. "It's about getting new people to the resort and returning guests to come visit more often."
The Peak Pass is available at the listed rates May 1 through September 27, 2013. Other perks of the Peak Pass include four Buddy Tickets for every Adult and 70+ passholder. Prices for the Buddy Tickets start at $35 each and vary throughout the season based on the day of use. The full listing of Buddy Ticket prices can be found online at http://www.skicb.com/buddyticket.
In addition, guests can upgrade to the Peak Pass+ for $150 for ages seven and older and $100 for children six and under, to include Adventure Park and summer 2014 lift access, as well as resort discounts. The Peak Pass upgrade is available at this price point until July 31, 2013.
Peak Pass Pricing:*
Adults $599
70+ $399
Young Adult (13-17) $299
Child (7-12) $199
6 & Under FREE
College** $469
Peak Pass+ Upgrade:*
Adults $150
70+ $150
Young Adult (13-17) $150
Child (7-12) $150
6 & Under $100
College** $150

Rates do not include the 4% Mt. Crested Butte Admissions tax.
** College passholders receive a total of 2 Buddy Tickets each.
"For years we tried custom designing a variety of pass products to meet the unique needs of every guest, but the new Peak Pass is designed to give each guest more skiing," adds Scott Clarkson, vice president of sales and marketing for the resort. "At $599 and with no lift lines or traffic to get here, this has got to be the best value in Colorado skiing."
The 2013-2014 Peak Pass and Peak Pass+ go on sale Wednesday, May 1 through September 27, 2013 and can be purchased online at http://www.skicb.com/seasonpass or at the Adventure Center in Mountaineer Square. For more information visit http://www.skicb.com/599 or call Skier Services at 970-349-2211.
About Crested Butte:
Nestled in the heart of Colorado's Rocky Mountains, Crested Butte is committed to preserving the pristine landscape and mountain lifestyle. With vibrant Victorian store fronts and expressive local characters, the small historic town remains true to its heritage and radiates an unparalleled welcoming and inviting spirit that celebrates a simpler life and time. Thanks to a widely diverse landscape, outdoor enthusiasts of all levels will find a new challenge with each visit. From world-class mountain biking, to legendary skiing and snowboarding, to a secluded fly-fishing experience, Crested Butte is one of Colorado's best-kept secrets. http://www.skicb.com
For more information about Crested Butte's lodging, conference, meeting facilities, and special packages, call Crested Butte Vacations, (800) 600-2803 or visit the web site at http://www.skicb.com. For information on ski area real estate opportunities call (970) 349-4999 or (877) 805-6109 or visit the website at http://www.cbliving.com.
###