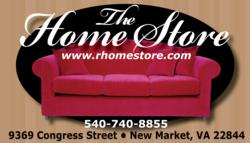 We are not a chain store, and we take pride in being unique," said Karla Kokkonen. "When we took over the business we wanted to build off of what Ralph started. We wanted to feature furniture 'Made in the USA' and keep pricing and selection competitive.
New Market, VA (PRWEB) April 30, 2013
In 1978 Ralph Kokkonen fell in love with the beautiful town of New Market, VA so he decided to continue his life-long career in furniture and flooring by opening his own furniture and flooring store on Main Street. And so the story began...
The Home Store, originally called Ralph's Home Store, started in a historic log home in a small historic town, New Market, VA. New Market is located in Shenandoah County, the heart of the Shenandoah Valley at the intersection of Interstate 81 and Highway 211. The town was officially established in 1796 and is best known for the New Market Battle of 1864 during the US Civil War. The New Market Battle was unique in American history due to the calling up of teenage cadets from Virginia Military Institute to successfully engage in combat delaying the Northern troops march on Richmond. There is a battlefield museum that is open year round and an annual battle re-enactment in mid-May. In 1972 the town was designated a historic district.
New Market features a wonderful Main Street (doubling as Rt. 11) you can casually stroll discovering the quaint shops, a theater, restaurants and one of the most unique "Furniture Stores" you will ever find, The Home Store. Throughout the years The Home Store has grown now offering over 6000 retail square footage. The store features quality, American made furniture of all styles. There is dining room furniture, bedroom furniture and living room furniture. There are mattresses, flooring and home décor, including interesting paintings and wall decorations. There is a gift area or gift shop that features displays from local artisans and popular gift ideas. But what really makes The Home Store unique is its welcoming approach to customer service for both loyal local customers and tourists visiting the area.
The founder, Ralph was committed to providing quality products at affordable prices with superior service. His philosophy was that honesty, hard work and dependability are the keys to a successful business. Ralph's philosophy enabled the business to grow where his son Mark then got involved and began the second generation of the family business. The name was changed to "The Home Store" however the business philosophy continues today.
For over 20 years, Ralph's son Mark and his wife Karla have carried on the family business. "We are not a chain store, and we take pride in being unique," said Karla Kokkonen. "When Mark and I took over the business we wanted to build off of what Ralph started. We wanted to feature furniture 'Made in the USA' and keep pricing and selection competitive to even the largest stores." Mark and Karla still take regular trips to furniture makers throughout North Carolina and around the East coast to stock their store with only the best quality. "It's impossible to stock the color or selection every individual may want, but we have the ability to get any design or style our customers desire."
Blessed with loyal customers and fine companies to work with, The Home Store has built a solid reputation over the past 35 years as the Shenandoah Valley's most trusted furniture, flooring and home décor business. "We never tried to be the biggest," said Karla Kokkonen. "We only wanted to build a reputation as being a great company to work with." They certainly have accomplished that goal. It's so rare in business today, especially with furniture and flooring to find a family owned company that has survived throughout the years especially with the ups and downs of the economy. When asked about the secret of the store's success, Mark replied, "I'm not sure there is one secret to the success. Work hard, be fair and listen to your customers. Be willing to do the hard work – go the extra mile. If a customer needs a delivery ASAP, do it yourself if necessary. Every customer is special and should be treated as such." What are the biggest challenges you are facing? "There are many, but what really stands out is the economic uncertainty for the past five years. Times have been difficult for a lot of families and purchasing a new bedroom suit or installing new hardwood floors has not been at the top of most lists. We have had to do more with layaways or financing to help make the purchase process easier, and we try to always have something on sale or a special going on."
Whenever The Home Store is open, customers will almost always find either Mark or Karla in the store, ready to help you choose items that best fit your home. This is truly a family owned local business! To celebrate the store's 35 year anniversary, the Kokkonens stocked the store with some new furniture lines and are now offering remarkable savings on in-stock inventory. They also have a new financing program that allows approved customers up to 12 months of zero percent interest rates. To learn more about The Home Store financing or specials, visit their website http://www.rhomestore.com.