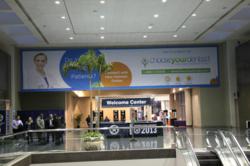 I am thrilled to be presenting the latest advancements in marketing and patient recruitment directly to the dental professionals at the TDA annual meeting
Dallas, TX (PRWEB) April 30, 2013
ChooseYourDentist.com, the website where patients and dentists connect, plans to showcase its newest capabilities to dental professionals at the annual session of the Texas Dental Association. The online portal already matches patients with prospective dentists by narrowing down factors that include geographic location, dental specialty and insurances accepted, and will soon add a mobile application to make it even easier to find a Dallas dentist.
ChooseYourDentist.com, the website where dentists and patients connect, will show dental practices how to find more patients in Texas at the annual session of the Texas Dental Association. Dubbed "The Texas Meeting," this year's gathering will be held May 2-5 at the Henry B. Gonzalez Convention Center in San Antonio. The Association expects this to be its biggest and best meeting yet with an anticipated attendance of more than 12,500.
ChooseYourDentist.com launched its site at this time last year and has grown dramatically in the short time since then. Texas dentists and patients alike are finding that the website is a fast and effective way of connecting. Dental practices which are looking for one location where consumers can quickly search for dentists in Texas have been using the site's convenient templates to build their customized microsites and add a short practice video to aid in recruiting new patients to their practices.
The up-to-the-minute technology which is incorporated into ChooseYourDentist.com allows prospective patients to search for dentists in Dallas or by practice specialty. If the practice sounds like it would be a good match, they can go to the next step and set up an appointment or request a telephone call. A soon-to-be-added mobile application will allow website visitors to find a dental practice in Dallas whenever it is most convenient for them.
"I am thrilled to be presenting the latest advancements in marketing and patient recruitment directly to the dental professionals at the TDA annual meeting," said Feridoon Amini, the site's cofounder and an IT professional. "We are doing all the marketing to attract visitors to ChooseYourDentist.com and working to make this the best site possible so Texas dentists can concentrate on providing the best patient services possible."
Dental professionals can also learn how ChooseYourDentist.com interacts with its sister site, DentalSpots.com, at the TDA meeting. They will be able to easily access any patient contact requests through their DentalSpots.com dashboard and will not have to set up two separate access points. The two sites function together to easily allow Texas dental practices to recruit dental professionals and dental patients without having to go through a lot of complex set-up procedures. Dental practices are now able to save time and cut their marketing budgets while still increasing their communication effectiveness.
ChooseYourDentist.com continues to make its site even more accessible and has added another feature to allow patients to view local dentists' special offers. Further information on ChooseYourDentist.com may be found at http://www.ChooseYourDentist.com, by calling 1-888-I-CHOOSE, or by email at info(at)ChooseYourDentist(dot)com.