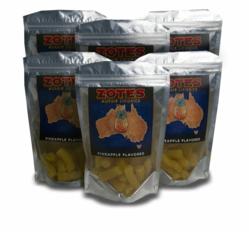 Highland, UT (PRWEB) April 30, 2013
Clutch Performance Snacks recently launched it's simple, online process that allows individual people, groups, or teams to develop their own personalized fund raising web site through a simple, step by step process online at http://www.clutchsnacks.com. "Our goal is to help teams, groups, or individuals raise funds so they can compete, travel, buy equipment, or pay for fees and accomplish their goals. Our partnership with Zotes will ensure a great product people enjoy, that is different than the traditional products groups have used during fundraising. Zotes different flavors and taste set them apart from the rest of the industry, and that is a type of product we want on our team, " stated Ryan Roberts, VP of Sales at Clutch Performance.
For many years Zotes has found a niche in the snack food market, producing a unique line of gourmet sunflower seeds with multiple tasty flavors. Zotes traditional sunflower seed flavors include Hot Wings, Sea Salt and Vinegar, Blue Cheese, BBQ, Dill Pickle, Salt and Pepper, Beer Baked, Garlic Roast, Jamaican Jerk, Theater Popcorn, Roasted and Salted, and Kettle Corn Corn Nuts. Zotes has recently announced new additions to the product line with Australian Soft Licorice and Yogurt Covered Pretzels. "The new products are consistent with our company mission and goals which is to bring quality snack products with convenient and innovative packaging to consumers everywhere. And adding these to Clutch's fund raising model, we are excited to help organizations everywhere raise funds for their activities, " said Shawn Richards, Operations Manager for Zotes Products.
Clutch Performance Snacks has developed a new, innovative and simple method to make traditional fundraising easy. Through Clutch Performance Snack's proprietary software, organizations and groups can create their own web site and then market the products they wish to sell through email and social media to their own personal contacts. Clutch Performance has taken the door to door process out of fundraising and the company collects every dollar and ships every product. Therefore, groups do not need to provide any money up front, guarantee any minimums, collect any money or deliver any products. Groups simply market their program with their own branded website, to their own contacts and ask for support. The process has been simplified so team leaders, students, administrators, and parents can focus on the fun activities instead of fundraising. For more information, visit http://www.clutchsnacks.com and zotes.com.