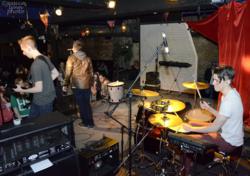 Beyond The Sun is a winner in my opinion!" Jon Finn, Professor, Berklee College of Music, Boston, MA
Boston, MA (PRWEB) April 30, 2013
Their US tour kicked off earlier this year at the legendary Hard Rock Cafés in Chicago, IL; Pittsburgh and Philadelphia, PA; Gatlinburg TN, and Destin FL. BTS continues to gain notable interest from a growing fan base with 125,000 views on their video "My Kind of Crazy". Beyond the Sun have been climbing the US radio charts with their title track, My Kind of Crazy on over 50 Top 40 Radio Stations in the U.S. My Kind of Crazy has been in Top 40 on the R&R Indicator for the past 5 weeks and in the Top 10 on the New Music Weekly Chart for the past 6 weeks.
The band will be performing next on Friday June 14th at Berklee College of Music, Café 939 in The Red Room, 939 Boylston St, Boston, MA. This all ages event is part of the young pop/rock band's extensive 2013 summer tour.
"I've known Phil Radu for a couple of years, having had him as a student at Berklee in a few different classes. He's always done really well. Recently I had the chance to listen to some of his band's latest release. I knew it would be good, but I was still floored by the songs, production, talent and focus. He and his brothers seem to follow a very simple formula: Write great songs; play and sing them really well. Beyond The Sun is a winner in my opinion!" Jon Finn, Professor, Berklee College of Music, Boston, MA
Excited about their 10 date East Coast Multi-State Camplified tour, Beyond the Sun will appear in front of thousands of happy campers this summer. "Camplified delivers quality entertainment to captive markets of tweens and teens, ages 6-17 through a unique age appropriate captive Rock Concert experience. Camplified promises an interactivity fantasy experience. It all begins in the morning, when the trucks roll into camp, day long interaction between the bands and campers take place by way of cook outs, scavenger hunts, relay races, games, guitar clinics and Q & A's with the artists. Campers are treated to a VIP experience with an all day access pass to the music festival. The 90-minute concert performance is the finale of the day and features 3 artists performing 25-minute sets. Following the concert, campers will each receive a commemorative tour poster that they will have signed by the artists."
The fresh, energetic and heartfelt music of Beyond The Sun celebrates the Toronto/Boston based band's belief that lyrics and melodies can tell an on-going, universal story and help human beings connect powerfully through their many diverse experiences. Through catchy yet personal tunes that sparkle with infinite layers of harmony, guitarist Phil, lead vocalist Colin and drummer Dalton unleash tunes that resonate personally with their audiences. After forming Beyond The Sun, the trio immediately garnered the attention of audiences throughout its home country and elsewhere. Along with maintaining an ambitious schedule of live shows, each member continues to fine-tune his proficiency at his instrument, with two members formally studying at the prestigious Berklee College of Music in Boston and the other studying at the Ken Tamplin Vocal Academy in Los Angeles.
For more information about Beyond The Sun, the band's music, videos, upcoming tour details, to join the mailing list and connect via Facebook , or Twitter visit http://www.beyondthesunmusic.com You can purchase My Kind of Crazy directly through iTunes and Amazon, or through the official Beyond The Sun website.