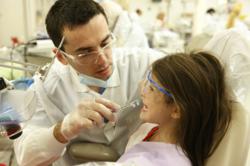 Portland, Maine (PRWEB) April 30, 2013
University of New England's Dental Hygiene program is celebrating 50 years since the graduation of its first class in 1963. A reception will be held on Wednesday, May 1, 2013 at 4 p.m. on the Portland campus in the Eleanor DeWolfe Ludcke Audiorium at 716 Stevens Ave. hosted by Dental Hygiene Program Director Bunny Mills from the Class of 1976. The event will feature a video researched and coordinated by Lauren Cummings of the Class of 2013.
Accredited by the American Dental Association, students of UNE's Dental Hygiene program are provided with an education that prepares them for distinctive dental hygiene careers. Third and fourth year students, under the close supervision of quality faculty, spend 12-16 hours per week providing direct patient care in the on-campus clinic to approximately 5,000 patients of all ages each year.
UNE offers both a four-year bachelor of science degree in dental hygiene and a bachelor of science completion degree program where students develop a thorough knowledge of dental hygiene theories and practices, study the important aspects of dental hygiene care and learn how to prevent oral disease. The program is part of UNE's Westbrook College of Health Professions.
The University of New England is an innovative health sciences university grounded in the liberal arts, with two distinctive coastal Maine campuses and unique study abroad opportunities. UNE has internationally recognized scholars in the sciences, health, medicine and humanities, and offers more than 40 undergraduate, graduate and professional degree programs.
###