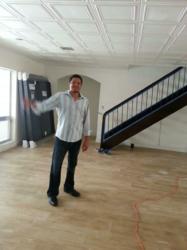 We specialize in work with ceiling tiles, wood flooring, and moldings.
Margate, FL (PRWEB) April 30, 2013
SilverStar 1 USA owner and operator Jose Almeida stated, "We specialize in work with ceiling tiles, wood flooring, and moldings." This installer works with all materials and finishes and is especially pleased to work with DCT's extensive collection of high-quality metal tiles, which includes the Solid Copper, Solid Aged Copper, and Real Tin tiles.
SilverStar 1 USA's regular coverage area is Miami to Orlando, but they will also travel to other locations within the state of Florida. They are fully insured and licensed in the state of Florida. Their license number is CC# 12-FL-17623-X.
SilverStar 1 USA is located at 5379 Lyons Rd., #458, Coconut Creek, FL 33073.
They can be contacted by phone at 954-540-4457 or 954-608-4067, by fax at 954-420-0731, or via email at silverstar1usa(at)hotmail(dot)com. Photos and other information from SilverStar 1 USA can also be found on the firm's website.
More photos and information about Decorative Ceiling Tile products can be located on the DCT website and the DCT Facebook page as well as on the DCT Houzz page.
Decorative Ceiling Tiles would like to note that the installers listed on their website are not associated with Decorative Ceiling Tiles, Inc., and DCT is not responsible for their work or actions in any way. However, they appreciate any customer feedback on the installers. Customers can submit feedback via email to info(at)decorativeceilingtiles(dot)net.
Decorative Ceiling Tiles' products have been prominently featured in the television broadcast sets of the Emmy® Awards and the American Country Awards. Other creative uses for these decorative tiles include photography backdrops and floors, as well as headboards for beds.
With headquarters in Florida and distributors and installers throughout the United States and select overseas locations, DecorativeCeilingTiles.net is the online leader in the sales of decorative ceiling tiles.