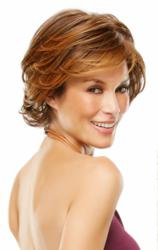 The New Jon Renau Wig Collection has something for everyone!
Los Angeles, CA (PRWEB) April 30, 2013
Jon Renau is a world renown wig maker. Originally from South Africa, his firm is now located just outside on San Diego, California. Wig shops have known about the six new wig styles for about a month, but have been forbidden to show pictures of them or sell them until today.
"In a world where people constantly try to knock off fashion, it was smart for Renau to keep his new styles a secret until they were ready to ship out on May 1," says Joseph Aronesty, president of WigSalon.com, one of the world's first e-commerce sites and home of thousands of top quality wigs for women everywhere. "The New Collection has something for everyone. From the short Kristen style which we sell for just over $100, to the long Courtney, each one is a true masterpiece."
When women lose hair unexpectedly from a medical procedure, wigs become their best friend for self-confidence, which has been shown to add to overall health as well. This new line of wigs is top of the line for women who have become accustomed to the best that money can buy. They can be seen in Los Angeles at WigSalon's Outlet Shop on Pico and Westwood or online at:
WigSalon.com
10867 W Pico Blvd
Los Angeles, CA 90064
Toll Free: 800-262-8437