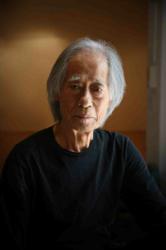 "Po Kim is an artist who seems to fully embrace the concept of painting in the present moment, not necessarily looking backward or forward," said Jeffrey Wechsler, former Curator of Asian Art at the Jane Voorhees Zimmerli Art Museum at Rutgers.
Fairfield, Connecticut (PRWEB) April 30, 2013
With a career that spans over six decades, the Korean-born American artist Po Kim (b. 1917) will have selections from his substantial body of work explored in the exhibition "Po Kim: The Spirit of Change," on view now through Wednesday, June 5, 2013, at the Thomas J. Walsh Art Gallery, located in Fairfield University's Quick Center for the Arts, in Fairfield, CT. The exhibition highlights over 30 of his works, ranging from early abstractions on canvas from the late 1950s to recent paintings conceived in 2009 and 2010.
Born in Korea in 1917, Po Kim studied art in Tokyo, Japan. He returned to Korea in 1946 to establish the Fine Art Department of Chosun University in Gwangju, Korea, where he was a professor and a chairman. In 1955, he came to United States on a fellowship at the University of Illinois and eventually moved to New York City two years later, and he also briefly taught at New York University. Throughout his career, Po Kim has had his works exhibited nationally and internationally in galleries and museums. In 2000, he received an Honorary Doctorate Degree of Letters from Chosun University. In 2005, Po Kim and his wife, American artist Sylvia Wald, founded The Sylvia Wald and Po Kim Art Gallery in New York City as a 501(c)(3) non-profit organization. The organization promotes cultural harmony through the arts by sponsoring and hosting temporary art exhibitions, dance and music performances, and other artistic events by national and international artists.
The style that Kim initially embraced in this country was Abstract Expressionism, and he did so with vigor and confidence. In a series of small paintings on paper in the early 1960s, Kim explored a format which bridged his Abstract Expressionist works and his forays into "stained" pigments and fields of color. He later practiced a personal version of color field painting that generally embraced the large scale and chromatic focus of the style. Around 1970, the artist moved from abstraction into new forms of expression. He started to draw realistic images, straightforwardly and even didactically, embarking on a long period of realistic still life imagery presented with simplicity and attention to detail. At this point, Kim had worked through a decade-long experiment that came full circle – putting aside abstraction, taking up realism and creating a stage-by-stage progression of change that ended with an abstract-realist synthesis. This journey, in a sense, recapitulated all of the artist's experience with forms, images, techniques, and conceptual approaches. He was prepared to enter a long phase of personal variations on several themes that continues to this day.
Po Kim's recent solo exhibition highlights include "Retrospective" at the Korean National Museum of Art in Seoul, Korea (2007), Chosun University Art Museum in Gwangju, Korea (2005, 2003, 2000), Nabi Gallery in New York City (1997), and at the Hankaram Art Museum and Seoul Art Center.
The Thomas J. Walsh Art Gallery is free and open to the public. Hours: Tuesday through Saturday, 11 a.m. to 5 p.m., Sundays from noon to 4 p.m., and approximately one hour prior to curtain and during intermission at all Quick Center events. The Regina A. Quick Center for the Arts is located on the campus of Fairfield University at 1073 North Benson Road in Fairfield, Connecticut. Entrance to the Quick Center is through the Barlow Road gate at 200 Barlow Road. Free, secure parking is available. Access for people with disabilities is available throughout the Quick Center. Fairfield University is located off exit 22 of Interstate-95. For further information and directions, call (203) 254-4010 or 1-877-278-7396, or visit http://www.fairfield.edu/quick.