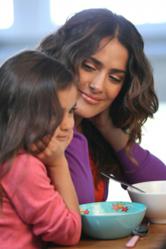 A Mother's Day poll shows celebrity Latina moms flower picks for Mother's Day flower arrangements that capture their unique qualities.
Los Angeles, CA (PRWEB) April 30, 2013
An LA Flower District California Flower Mall Mother's Day poll shows celebrity Latina moms flower picks for Mother's Day flower arrangements that capture their unique qualities. "Latina Moms are some of the hardest working women in Los Angeles," said Hilda Jimenez, Los Angeles Flower District California Flower Mall Operations Director. "They sacrifice and work tirelessly at home and work to provide for their families, and love their kids unconditionally. Hollywood Latina celebrity moms work hard too, and they must be strong to protect their kids from the glare of the celebrity spotlight."
Jimenez added that California Flower Mall will open later evening hours the week before Mother's Day and 24/7 for the Dia de Las Madres Mothers Day weekend for the convenience of budget conscious working Mom's and their families celebrating their mother's love with flowers. CFM is the only downtown Los Angeles flower market open extended weekday hours and 24/7 before Mother's Day
As the fragrance of millions of Dia de Las Madres and Mother's Day holiday weekend flowers waft in air of LA's eight block Flower District, California Flower Mall petallers -- readying for their biggest flower holiday of the year --were polled on the flowers they'd use in Mother's Day flower arrangements for celebrity Latina Mamacitas.
The poll results show the most popular flower choices and their meanings for celebrity Latina moms. Anyone honoring the Mom's in their life can use flowers meanings as a DIY Mother's Day bouquets guide to capture the unique qualities of their own moms, grandmas, aunts, sisters and moms to be:

Christina Aguilera: Stargazer Lilly – ambitious; Freesia –beautiful spirit.
Thalia: Cala and Casablanca lilies – strong, dramatic, fertile, full of life.
Sofia Vergara: Bird of Paradise – exotic; Passion Flower – passionate.
Jessica Alba: Hibiscus – delicate beauty; Butterfly orchid – peaceful, graceful.
Salma Hayek: Gladiolus – strength of character, sincerity; Magnolia – dignity.
Jennifer Lopez: Gardenia – joy, sincerity, natural grace; Wisteria – steadfast.
What flowers did California Flower Mall petallers choose for their deeply cherished Mamacita Jenni Rivera who recently perished in a plane crash? "We all agreed we would put every one of the flowers for the others in a beautiful bouquet for Jenni, we would add red roses and forget-me-nots because our love for Jenni will live in our hearts forever," said CFM's Jose Macias, Owner of Macias Wholesale Flowers.
About California Flower Mall
The Los Angeles Flower District California Flower Mall, located at 825 San Pedro Street, is one of the largest premier DIY wholesale flower marts in the Downtown Los Angeles flower market neighborhood. The 8 block Los Angeles Flower District community is the largest concentration of wholesale flower markets and flower businesses in the U.S. It is located in the LA Fashion District. Hilda Jimenez is an elected member of the LA Fashion District Business Improvement District Board of Directors.