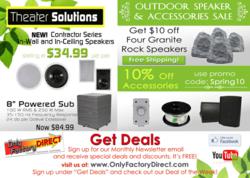 Canoga Park, CA (PRWEB) April 30, 2013
OnlyFactoryDirect.com launches Spring Sales Event, May 1st, 2013. The Spring Sales event is to highlight outdoor speakers and home audio including in-ceiling speakers for under $40.00 from Theater Solutions.
First, OnlyFactoryDirect.com introduces Theater Solutions newest line of in-wall / in-ceiling speakers the "Contractor Series." Theater Solutions is known for their highly rated home audio products, built with quality components and sleek design. In 2011, Theater Solutions expanded their home theater line to include outdoor rock speakers and mountable speakers. The response was excellent, thus the emerging of a totally new line of minimalist budget conscious in-wall / in-ceiling speakers, the Contractor Series.
The Contractor Series speakers are available in four sizes including 4", 5.25", 6.5", and 8" packaged and sold in pairs. Now, available exclusively at http://www.OnlyFactoryDirect.com until July 1st.
CS4C / CS4W 4" In-Ceiling or In-Wall Speakers $34.99 per pair
CS5C / CS5W 5 ¼" In-Ceiling or In-Wall Speakers $39.99 per pair
CS6C / CS6W 6 ½" In-Ceiling or In-Wall Speakers $44.99 per pair
CS8C / CS8W 8" In-Ceiling or In-Wall Speakers $49.99
The event will also feature a 10% discount code off the entire category of outdoor accessories, including burial grade speaker wire, outdoor volume controls, and more. Find huge savings on outdoor rock speakers from Theater Solutions, like a four pack of 8" tall Granite Rock Speakers, with 4.5" Poly Mica 8ohm woofers, sealed voice coils and butyl rubber surround. Designed to blend into any outdoor environment, and tested to 20 below zero.
Finally, the Spring Event, offers an 8" down-firing powered home subwoofer 100 watts RMS for $84.99 delivered, the Sub8D. The Spring Sales event is to run through the end of May.
Founded in 2004, OnlyFactoryDirect.com is an on-line resource for audio equipment at factory direct prices. OnlyFactoryDirect.com offers over 3,000 audio related products from well known brand names like JBL and Mackie to emerging new brands like Technical Pro and Podium Pro Audio. OnlyFactoryDirect.com offers free ground shipping on all orders within the continental United States and a 30-day "No Hassle" guarantee. If you are not fully satisfied with your purchase, OFD will pay the return shipping and give you a full refund (see details).
Spring Sales Event going on now at OnlyFactoryDirect.com