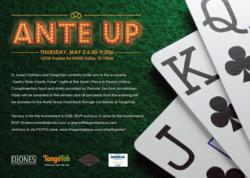 (PRWEB) April 30, 2013
The Gents Place is pleased to announce their efforts to aid local charities such as the North Texas Food Bank. The upscale men's grooming club wanted to do this in a way that was fun for their clients, rather than just asking for donations. The Gents Place has teamed up with custom men's clothier, D. Jones, to provide an unforgettable evening.
The charity poker event is set to take place on May 2nd at 6:30 pm in the Preston Hollow club. The event will feature cocktails supplied by Damrak Gin from Amsterdam, as well as delicious food for the players to enjoy. The Gents Place main grooming floor will be transformed into a poker player's paradise with premium poker tables and live dealers. The 1st, 2nd, & 3rd place winners will be awarded prizes valued at $100 and up, along with Visa gift cards for $100, $200, & $300. The buy in for the event is $100, and all net proceeds will go to the North Texas Food Bank. There are limited spots available so RSVP today. To RSVP to this event, please visit http://www.thegentsplace.com/charitypoker. The Gents Place welcomes all interested gentlemen to participate in such a great cause.
About The Gents Place
Founded in 2008 by Ben Davis, a frustrated guy who hated getting his haircut, The Gents Place offers men's grooming and lifestyle products and services in a masculine, yet relaxed country club type environment. They offer men's hair services, hand and foot repairs, straight razor shaves, massages, shoe shines and more. Frequently referred to as America's Premier Men's Grooming and Lifestyle Club with locations in Texas (Dallas, Frisco) and Kansas (Leawood), The Gents Place is known for its commitment to client service and top shelf amenities.
To learn more about The Gents Place or to find a club near you, visit http://www.thegentsplace.com.