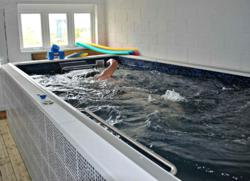 In terms of learning to swim, this is the perfect environment.
(PRWEB) April 30, 2013
Trevor Riches has put a unique spin on the traditional bed and breakfast. Riches, along with Lynette Hart, runs Ard na Ciuin Guesthouse, a bed and breakfast in Ballyduff, Ireland that features an Endless Pool® for swim training.
One of the top ranked Bed and Breakfasts in all of Ireland according to TripAdvisor, the B&B has more than earned its 'Excellent' rating.
Reviewers rave about the hospitality of the hosts as well as the opportunity to learn how to swim during their getaway.
Ard na Ciuin translates to 'Quiet Heights,' which perfectly defines the peaceful atmosphere of the guesthouse, which Riches and Hart acknowledge with pride is well off the beaten path.
With lessons in the compact, temperature controlled pool, guests feel welcome and safe as an instructor looks on.
"In terms of learning to swim, this is the perfect environment, the pool is incredible and Tracey is the most amazing instructor," praised one TripAdvisor reviewer.
"I arrived at Ard na Ciuin unsure if I would ever swim, but swam on my second class and finished every single lesson amazed at the progress that it is possible to make in such a short time," echoed another.
Riches takes great pride in watching novice swimmers make quick progress and learn how to swim in the Endless Pool during their stay.
"It's one of the rewards of running this business," said Riches. "It gives us a real buzz."
Recently profiled by RTE's 'Nationwide,' which focused on the story of a woman who overcame her fear of swimming during a stay at the B&B, Riches hopes to raise awareness about the opportunity for professional swim instruction along with a relaxing getaway from the hustle and bustle of daily life.
While Ard na Ciuin has cornered the bed and breakfast swim school market, the Endless Pool has been an ideal swim training device for years that many coaches and swim schools have taken advantage of.
Often referred to as a 'treadmill for swimmers,' coaches can incorporate underwater and overhead mirrors, underwater cameras, and a variety of options to track changes and give instantaneous instruction to swimmers.
From 'how to swim' lessons to advanced technique training for triathletes, open water swimmers, collegiate swimmers and even Olympians, the Endless Pool offers a compact swimming pool or swim spa for indoor or outdoor installation.
About Endless Pools:
Endless Pools, established in 1988, has served over 20,000 customers in over 80 countries, and offers compact, customizable swimming pools for indoor or outdoor use. With a series of innovative, customizable products, the company has completed installations around the world for swimming, water exercise, rehab and aquatic therapy use. Endless Pools, Exercise Spas, and Swim Spas can also be installed at home for daily fitness. Rigorously tested for safety, low-maintenance and environmentally friendly, Endless Pools has a product to meet virtually any need.
For more information about Endless Pools, visit http://www.endlesspools.com or contact Rob Shaeffer at 610-497-8676.
For more information about Ard na Ciuin Guesthouse, visit http://www.ardnaciuin.ie.