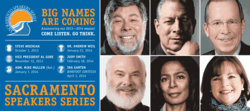 Come listen.
Go think.
(PRWEB) April 30, 2013
The Sacramento Speakers Series, a community lecture series that showcases six evenings of topical insight from some of today's most influential figures, announced the 2013-14 Season line up at the final evening of the 2012-13 Season, with Dr. Robert Ballard.
The season kicks off on October 1, 2013 with Apple co-founder Steve Wozniak, the legendary creative genius who dropped out of college to invent the personal computer, an invention that, for better or worse, has changed all of our lives. Woz will share with the audience his passion for bringing "hands on" learning and a focus on creativity to schools, and for protecting free speech, privacy and innovation in the digital age.
Next up, on November 12, 2013, the series is privileged to host former Vice President and current climate change advocate Al Gore. After a long and fruitful political career in Washington, Gore turned his considerable energy and talents to protecting the environment. His film, An Inconvenient Truth, garnered an Oscar and a Nobel Peace prize. He now spends most of his time working with The Climate Reality Project, the non-profit company he founded, devoted to removing the doubt about climate change and encouraging people to demand solutions to the climate crisis.
To start the New Year, on January 7, 2014, Admiral Mike Mullen, former Chairman of the Joint Chiefs of Staff, will join the series. Having commanded three ships and served in Navy leadership positions ashore, Admiral Mullen served as Chairman of the Joint Chiefs of Staff under two Presidents, Bush and Obama, from 2007-2011, and is familiar with the wars in Afghanistan and in Iraq. While serving, he expressed his support for ending Clinton's policy of "don't ask, don't tell," and he is outspoken about the importance of diplomacy and economics to national security.
On January 21, 2014, Dr. Andrew Weil, a pioneer in the fields of health, wellness, and integrative medicine, will be with us. Weil is founder, professor and director of the Arizona Center for Integrative Medicine at the University of Arizona. His best-selling books, website, newsletters, PBS specials, and frequent appearances on Today and The Dr. Oz Show have inspired many people to lead healthier and happier lives.
Next, on February 18, 2014, Judy Smith will bring her unique combination of communication skills, media savvy, and legal and political acumen to Sacramento. Smith honed her skills through first-hand experience as an Assistant U.S. Attorney in Washington, D.C. and as Deputy Press Secretary to President George H. W. Bush. Best known for her crisis management advice to a host of high profile clients, Smith's resume helped inspire the prime-time hit drama, Scandal.
The season will end on April 1, 2014, with every cook's favorite: Ina Garten, the Barefoot Contessa! Ina is a self-taught cook who, while working as an analyst in the White House, decided she needed to do something more creative- and went from gourmet food store owner/operator to best-selling cookbook author to her own Food Network TV show- and now brings her talent of creating delicious food with style to the community in Sacramento.
Managing principal Mitchell Ostwald describes the series as "an extraordinary community experience that gives our patrons an opportunity to hear about and question renowned and influential people from a wide variety of backgrounds on an even wider variety of topics." Come listen. Go think.
For more information about the Sacramento Speakers Series and the 2013-14 Season visit them online at sacramentospeakers.com.