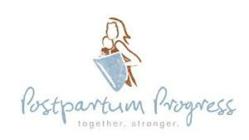 ATLANTA, GA (PRWEB) April 30, 2013
Sunday May 12 is Mother's Day, a day when we come together to celebrate the love, care and sacrifice the mothers in our families make every day. Mother's Day is the perfect opportunity to provide moms suffering from postpartum depression, anxiety disorders, OCD or antenatal disorders with the support and care they so desperately need; the unseen sacrifice so many mothers make.
The fifth annual Mother's Day Rally for Moms' Mental Health is held on Postpartum Progress' site and features 24 letters to new moms, posted each hour on the hour, from great writers who have been there. They know how it feels and understand the struggles mothers go through battling postpartum depression. These letters are written from the heart and offer advice, words of comfort and personal stories to offer solace and inspiration to those moms who are struggling on a day when we celebrate motherhood.
In addition to the Mother's Day Rally for Moms' Mental Health, Postpartum Progress supports Jammie's in a Jar. For each Jammie's Jar sold, Two Mice, A Bear and A Bunny LLC will donate 10% of the profit to Postpartum Progress, a national nonprofit that raises awareness of postpartum depression and promotes better support and services for pregnant and new mothers with mental illness.
For more information on the Mother's Day Rally and other postpartum initiatives, please visit http://www.postpartumprogress.com/.
XXX
About Postpartum Progress.com:
Postpartum Progress® is the world's most widely-read blog on postpartum depression and all other mental illnesses related to pregnancy and childbirth, including: postpartum anxiety, postpartum OCD, depression during pregnancy (antenatal depression), post-adoption depression, postpartum PTSD, depression after miscarriage or perinatal loss and postpartum psychosis. We focus on positive messages of empowerment and recovery, because PPD is temporary and treatable with professional help. Postpartum Progress, founded in 2004, has been recommended to new moms by Health.com, Parenting.com, Psych Central, Scholastic Parent & Child, Fit Pregnancy and many of the top clinicians specializing in postpartum depression and other perinatal mood and anxiety disorders. The site is a program of Postpartum Progress Inc., a 501(c)3 non-profit organization.
About Katharine Stone:
Katherine Stone (@postpartumprog) is the founder and editor of Postpartum Progress, the leading blog on postpartum depression, a parenting columnist for Disney's Babble.com, and a contributor to Huffington Post Parents and Kids in the House. She's also the founder of Postpartum Progress Inc., a national nonprofit focused on vastly improving support for women with perinatal mood and anxiety disorders. In 2013, Katherine won the Health Activist Hero Award at the annual WEGO Health Awards. In 2012, Katherine was named one of the fiercest women in America as part of More magazine's annual Fierce List. She also was listed among the most influential mom bloggers in 2011 and 2012 by Babble, and has been selected as a WebMD Health Hero. Additionally, she won the 2010 Bloganthropy Award, given for using social media to make a difference, and a 2011 Media Award from Mental Health America, given for outstanding coverage and portrayals of mental health issues during the previous year.
Katherine has been featured by CNN, the Huffington Post, Yahoo, AOL, PBS, The Today Show, HLN, ABC News, iVillage, Health.com, the Washington Post and the Atlanta Journal-Constitution among others. She has participated in sponsored campaigns with Bank of America, Home Depot, Target, MAM Baby and Citibank. She often speaks publicly at such events as SXSW and BlogHer, as well as conferences focused on women's health and mental health. Most recently, she was a keynote speaker for the Type A Parent conference and the Conversations With Coca-Cola social media conference.