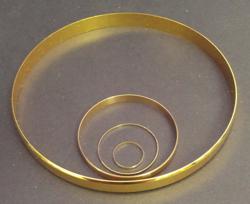 Best value
Littleton, MA (PRWEB) April 30, 2013
The new 40 amp Roll-Ring® is sized to replace slip-ring brushes in power circuits, the circuits that generate the majority of the wear debris and thus maintenance requirements in multi-channel assemblies. As Roll-Rings® generate nearly negligible wear debris they are capable of outlasting all other forms of contacting slip-ring assemblies for mission critical military, radar and aerospace applications.
The half inch larger diameter of the 1.25" Roll-Ring® as compared to the field tested three-quarter inch diameter Roll-Ring® found in most of the company's assemblies increases the current handling capacity by a factor of eight. The new Roll-Ring® was designed using the company's proprietary design software to give it the ability to operate for billions of revolutions without cyclical fatigue failures.
The picture shows the relative size of several commonly used Roll-Rings®. The outermost ring is the 150 Amp Roll-Ring® for use in Doubly Fed Induction Generator (DFIG) Collector Assemblies for wind turbines and other high power applications. The next ring is the new 1.25" Roll-Ring for complex multi-channel assemblies incorporating power, signals and data. The second smallest ring is the company's standard, the ¾" Roll-Ring®, which has been in service in radar systems without maintenance for up to ten years and counting. The last Roll-Ring® is 3/8" in diameter and is used for SatCom service aboard aircraft.
About
Diamond-Roltran, LLC provides the proven maintenance-free Roll-Ring® rolling electrical contact solution to replace slip rings for rotary power, signal and data transfer requirements for mission critical applications the world over. Diamond-Roltran supplies Roll-Rings® for military, government and aerospace customers worldwide and supplies Roll-Rings® integrated into rotary couplers for microwave antenna applications through Diamond Antenna & Microwave and Diamond Antenna Europe BVBA. Diamond-Roltran is the authorized rotary joint repair facility for Diamond Antenna & Microwave. http://www.diamondroll-ring.com