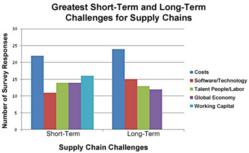 Raleigh, NC (PRWEB) April 30, 2013
Rising costs, implementing new software and technology, and obtaining the right talent are the top challenges supply chain executives face today, according to a new report by Tompkins Supply Chain Consortium.
The Biggest Challenges for Today's Supply Chains Report offers insight on both short-term and long-term challenges, resulting from data collected by a survey of supply chain leaders across several industries.
"Being a leader of supply chain in the current business environment is a challenge within itself," says Bruce Tompkins, Executive Director of Tompkins Supply Chain Consortium and author of the report. "There is a continuous barrage of issues and no shortage of systematic problems that need to be fixed."
Supply chain executives are encountering rising costs in nearly every aspect of supply chains, from fuel and labor, to products and transportation. According to Tompkins, the chances of reducing costs are low at only 20 percent.
The report also reveals major long-term challenges related to working capital, talent, software and technology, and the weak global economy.
"Companies across all industries are struggling to staff and retain good people. This trend goes from the C-suite to the factory floor, and for all positions in between," Tompkins says. "Many companies also feel trapped with their current technology and are not able to upgrade it fast enough to keep up with company needs."
To learn more about the Biggest Challenges for Today's Supply Chains, read the full report here.
About Tompkins Supply Chain Consortium
Tompkins Supply Chain Consortium is the premier source for supply chain benchmarking and best practices knowledge. With more than 350 participating retail, manufacturing and wholesale/distribution companies, the Consortium sponsors a comprehensive repository of over 10,000 data points complemented by search capabilities, online analysis tools, topic forums and peer networking for supply chain executives and practitioners. The Consortium is led by the needs of its membership and an Advisory Board that includes executives from Domino's Pizza, GlaxoSmithKline, Hallmark, Ingram Micro, Kane is Able, Miller-Coors, The Coca-Cola Company, Target and University of Wisconsin. To learn more about how your company can become a member of the Supply Chain Consortium, contact John Foley, 919-855-5461 or visit http://www.supplychainconsortium.com.
Connect with Tompkins Supply Chain Consortium: http://www.supplychainconsortium.com/rc/connections.asp