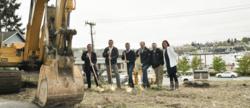 "The market has rebooted and the next development cycle of for-sale housing in the city has commenced," said Jones.
Seattle, WA (PRWEB) April 30, 2013
Executives at Trinity Real Estate announced today the official ground breaking of The Residences at Fairview – a 21-unit, high-end attached residential development on the eastern shore of Lake Union. With construction lending by Sound Community Bank, the project is likely the first larger-scale, "for-sale" luxury development financed in Seattle since the credit crisis deferred or canceled dozens of condominium and town home projects over the past five years. This announcement follows confirmation by S&P/Case-Shiller Home Price Index that the Seattle Metro Area recorded its highest annual growth rate according to their release this morning – median home prices in the region have risen 9.3% year-over-year since bottoming in February 2012. Broker representatives say the new units, set to deliver by early 2014, will be "eagerly anticipated" given overall inventory in the center city is projected to be "unprecedentedly anemic".
"After years of waiting for the (housing) market to stabilize and for local construction lenders to loosen up financing we're finally building The Residences at Fairview," said Mike Yukevich, a partner with Seattle-based Trinity Real Estate. "We've aligned a world-class design, development, lending, sales and marketing team to realize our vision on this never before, never again offering. By this time next year homeowners will be moving in and we'll be developing our next phase at higher prices."
The Residences at Fairview is unique in that units range in size from 2,500 to more than 5,000 square feet (for combined homes) with the first collection of residences being offered at preferred presale pricing from $1.3 million. Revitalizing more than a thousand feet of waterfront on Lake Union, the 21 town home residences are part of the Wards Cove master plan community that comprises a new marina, a commercial office building, a dozen floating home sites and a reclaimed beach for the community.
"This is quintessential Seattle living at its finest just moments from expansive job growth taking shape in South Lake Union," said Nick Glant the listing broker for The Residences at Fairview. "With construction underway we can now tell prospective homebuyers and their brokers that we're ready for market – the excitement is building."
The Residences at Fairview were designed as an alternative to high-rise penthouse living and includes options for boat moorage, says Glant. He confirms at least one of the nine homes offered in the first phase is sold but acknowledges that presales have not really been part of the Seattle-area marketplace in recent years until recently.
"It's been a chicken and egg scenario as neither buyers nor banks want to go first but Trinity Real Estate's ability to bridge the divide and start construction motivates both," adds Glant. "We've been monitoring successful presales on the Eastside with single-family homes but only smaller, for-sale developments have been financed and presold around Seattle. I think this is the first larger-scale deal to move forward with a traditional construction loan. Hopefully, it's a harbinger of things to come – we need homes to sell."
However rising market conditions have encouraged both the developer and their lender to move forward with the project. The center-city marketplace has recovered dramatically over the last year, according to Dean Jones, Owner Realogics Sotheby's International Realty (RSIR) – a top-selling brokerage firm based in downtown Seattle and a co-listing brokerage on The Residences at Fairview with NWG Real Estate.
"The market has rebooted and the next development cycle of for-sale housing in the city has commenced," said Jones. "Demand for condominiums and town homes have increased considerably but consumers are being forced to pick through existing inventory. Jones says fewer than 45 new construction units remain available for sale from the last development cycle, which delivered the last units in early 2010. Even with 78 resale units the total market supply is still less than 5% of the total inventory available compared with five years ago at the height of the housing boom in the center city, according to RSIR research. He believes the market may have overcorrected because it takes years for developers to deliver product, especially for high-rise inventory.
As of the first quarter 2013, the median home prices of condominiums in downtown Seattle rose 36% compared with the same period in 2012, according to the NWMLS. February 2012 is broadly viewed as the bottom of the housing market declines in the Seattle metro area.
"Our late start in the last cycle actually afforded us a pole position in a new development race," adds Yukevich. "While plenty of new apartments are being delivered not everyone wants to rent and we're talking about a very different product here. With new construction we have an opportunity to build something that doesn't already exist. That's what we're doing at The Residences at Fairview."
To learn more visit: http://www.FairviewLakeUnion.com
About Trinity Real Estate: With a mission to produce superior real estate investment returns by combining expertise in the local property markets with appropriate risk-adjusted capital, Trinity Real Estate partners with public, private, and institutional clients to invest in growth submarkets within the Pacific Northwest. The experienced team maintains a successfully portfolio of developments including multifamily, office and industrial, retail and residential developments. Visit http://www.TrinityRE.com.
About NW Group Real Estate: Established in 2007, NWG is a leading boutique residential brokerage focusing exclusively on Seattle/Eastside properties. NWG has a collaborative broker approach that acts as a "Residential Board of Directors". Visit http://www.NWGRealEstate.com.
About Realogics Sotheby's International Realty: Artfully uniting extraordinary homes with extraordinary lives, Realogics Sotheby's International Realty is a full service marketing and sales brokerage in the Pacific Northwest and a top-selling office in downtown Seattle according to Trendgraphix, Inc. The firm was recognized by the PSBJ as the second fastest growing private company in Washington State for 2012. http://www.RealogicsSothebysRealty.com http://www.realogicssothebysrealty.com/