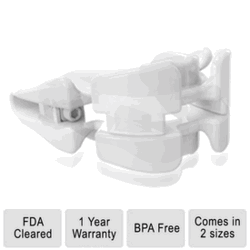 Thank you very much! I love my VitalSleep. I haven't slept this good in a very long time.
Teneane S., Elk Grove, CA
New York, NY (PRWEB) April 30, 2013
The latest customer reviews of the FDA cleared VitalSleep anti-snoring mouthpiece are showing positive results to help snorers sleep better at night. This dental device is adjustable and helps to opens the airway so users can experience a better sleep cycle.
Elizabeth Bills of Nashville, TN share with us how VitalSleep helped her husband with his snoring problem.
"My husband's snoring has been a source of contention for us throughout our ten year courtship and marriage. We have gone through several periods where we slept in separate rooms so that I could get a decent night's sleep. THE FIRST NIGHT that my husband used the VitalSleep device, he did not snore ONE SINGLE TIME. I kept waking up and looking at him, expecting him to be awake. But he slept the entire night through, without snoring, and woke up feeling more refreshed that he can recall ever feeling.
While I am not an excessive snorer, I do snore a bit; I am so envious of his level of rest and great morning mood that I have just ordered my own device. Even if my issue doesn't turn out to be snoring, VitalSleep has given us back our marriage. We now sleep in the same room again, and it has brought back the affection and closeness that we experienced early in our relationship. I can't believe it took us ten years to discover this inexpensive snoring solution to a problem that could have potentially lead to the end of our relationship."
Luckily a long time snorer Tom W. of Lawrenceville, GA purchased VitalSleep and shared the following:
"I have had a snoring issue for years. I can across Vital Sleep online and have been using it for 8 months. I have DEFINITELY noticed a difference with sleeping better and having more energy in the morning. My wife is sleeping better as well. I HIGHLY recommend the Vital Sleep mouthpiece for your snoring issues."
Another aspect of VitalSleep is that it carries an affordable price tag that includes free replacements during the one year warranty period. This anti-snoring mouth guard works to help reduce breathing issues and avoid disruptive sleeping patterns. There is a number of risks associated with lack of good sleep, such a compromised immune system and even sleeping disorders. VitalSleep offers a customizable option to help people live a more rested lifestyle.
For information regarding VitalSleep Reviews please visit: http://www.vitalsleep.com./