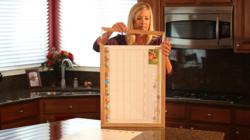 Denver, CO (PRWEB) April 30, 2013
Tailor Made Whiteboards introduces their latest product, the new "Quick-Change" whiteboard designed to quickly and easily adapt to an evolving lifestyle. Designed with a unique "pop-top" frame feature, all Quick-Change whiteboards are easy to use and perfect for a growing household.
Change the function of the whiteboard from a menu planner to a scheduling calendar in no time. Update the family photo, or easily change the look and feel of the Tailor Made Whiteboard to match home improvements. Simply remove the pop-top removable frame piece from one side of the whiteboard, slide out the existing artwork panel and replace with the new design. Quickly change the function and design of the whiteboard at a fraction of the cost of buying a new board!
A Quick-Change whiteboard from Tailor Made Whiteboards is built in the USA and designed to last a lifetime. Made from a unique clear material that dry erase marker ink cannot penetrate, the Tailor Made Whiteboards dry erase surface will never stain or discolor & satisfaction is GUARANTEED. All Tailor Made Whiteboards are specially designed to continuously and easily wipe writing away and NEVER GHOST! Even permanent marker ink can be easily removed.
Tailor Made Whiteboards currently offers 45 different designs to choose from, and are constantly updating the design catalog to feature new and fresh designs. Customers can create their own custom design as well, for a truly unique product. With holiday designs, seasonal designs, useful functions, an add-you-own-photo feature, and dry-erase surface that never ghosts, a Quick-Change whiteboard from Tailor Made Whiteboards can help plan and simplify busy lives.
For more information, watch Tailor Made Whiteboards instructional "Quick-Change" Whiteboard video!