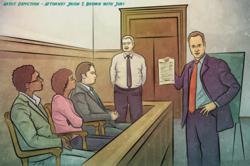 Jersey City, NJ (PRWEB) April 30, 2013
The JTB Law Group, LLC has opened up its new location in the heart of Jersey City, New Jersey. The new office is close to the Path station and is easily accessible for individuals from New York City. The firm handles class actions and mass torts nationwide and will continue to offer free consultations about those matters. The 24/7 Phone line is (877) 561-0000.
Mr. Jason T. Brown, Esquire, the head of the firm is a formidable litigator. He has tried State and Federal cases to verdict and in some instances has received Judgments for the maximum damages permitted by law. His litigation team from his prior firm migrated to the Jersey City Office with him and the firm continues to travel nationwide to fight for the rights of individuals who have been injured or have been taken advantage of in some way. Mr. Brown has the unique experience as a plaintiff's lawyer who formerly served the FBI as a Special Agent and Legal Advisor.
The firm notes that they continue to stay very active in the following areas:
Employee Rights
Wage & Hour Litigation
Class Actions
Catastrophic Injuries
Yaz, Yasmin, Ocella, Gianvi, Sayfral Injuries involving Deep Vein Thrombosis, Pulmonary Embolism, or Death. Cases are currently in the settlement phase, but they are no longer accepting gall bladder injuries. They have a dedicated site regarding this litigation.
Actos Bladder Cancer
Mirena uterus perforations
Da Vinci Robot injuries
"With the opening of the new office we now have a great litigation team and location in place to assist individuals in solving their litigation problems," Senior Attorney Jason T. Brown stated. "Whatever the legal problem is, we can offer a free, confidential consultation and try to guide you in the right direction." Mr. Brown does indicate, however, that most consultations are telephonic, and in office consultations may involve a fee and must be scheduled in advance.