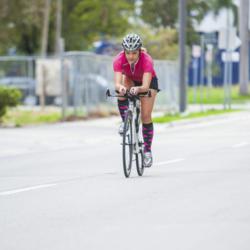 The Zensah Argyle Compression Socks are one of our top selling specialty products for triathletes.
(PRWEB) April 30, 2013
Spring means triathletes are in peak competition mode and need the best tools for training and recovery. Zensah®, the number one selling compression brand, offers the best compression socks for runners and triathletes. The Miami based company focuses on innovative designs to target the needs of athletes.
Compression apparel stabilizes the muscles to prevent injuries and increase oxygenated blood flow, which helps prevent injuries like shin splints, calf strains, and expedite recovery. Zensah Compression Socks help runners and triathletes achieve their goals by helping them stay injury free and recover faster. Triathletes can also benefit from wearing compression socks during travel.
Zensah Compression Socks incorporate graduated compression. As a result, a pressure gradient is created which allows the advanced socks to improve circulation and enhance blood flow, resulting in a much more comfortable travel experience after a race. Zensah Compression Socks are a great tool for athletes to keep in their carry on bags when traveling to and from races.
Unlike traditional compression socks, which are heavy, uncomfortable, and difficult to put on, Zensah socks offer a cushioned foot bed, extra ankle support, and Achilles protection. The seamless technology and anatomical fit prevents chafing, blisters and the best fit for ultimate comfort. Zensah Compression Socks are easy to put on, keeping transition times quick. The compression socks are made of Zensah proprietary fabric that contains silver ions, which is anti-microbial, thermo-regulating and very durable.
"The Zensah Argyle Compression Socks are one of our top selling specialty products for triathletes. The technology and colors really stand out to our customers," says Nathan Hall of TriSports.com.
As athletes go into full spring training and racing, Zensah Compression Socks are a must have item. The socks are available in 6 different neon colors and 7 argyle patterns. Zensah released the new White/Grey/Neon Pink Compression Sock just in time for spring. Visit a local retail or http://www.zensah.com to learn more.
About Zensah: Zensah® is a Miami-based company, specializing in sports compression apparel. Their seamless compression products are praised by athletes and fitness enthusiasts, including runners, cyclists, and triathletes. Zensah® offers compression products for performance and recovery. According to Leisure Trends Group Specialty Running RetailTRAK™, Zensah® has the number one selling Compression Leg Sleeves in the US for Running Specialty.
Suzanne Kerpel
marketing(at)zensah(dot)com
ZENSAH COMPRESSION APPAREL
(305) 935-4619