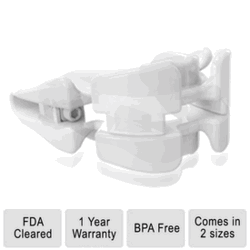 Just wanted to say thanks again for the replacement for the one we lost moving. My husband has been wearing his new replacement guard since Friday night and I have been able to sleep in the same room with him again. - J. Collins, Redford, TX
New York, NY (PRWEB) April 30, 2013
The latest customer reviews of the FDA cleared VitalSleep snoring device are showing positive results to help snorers sleep better at night. This snoring mouth piece is adjustable and helps to opens the airway, so users can experience a better sleep cycle.
D.B. of Kingman, AZ shares with us how VitalSleep helped stopped his snoring and allowed him to sleep peacefully with his wife again.
"First of all let me tell you, Thank You! I am finally sleeping soundly and with my wife for the first time in four months. I purchased the mouthguard with mixed reservations. I tried the nose strips, throat sprays, everything. I came across the VitalSleep mouthguard while searching for something, anything that would help me sleep and feel rested! Thank God for this product! I have told my fellow employees, friends and brother who has a snoring problem also. You have a customer for life! (Just ask my wife!!)"
Luckily, snorer T.E. Johnson of Arizona purchased VitalSleep and shared the following:
"Several months ago I awoke to an empty bed. My girlfriend arises prior to me two mornings a week to meet with her personal trainer. So, at first, I didn't think much about her absence. It was only when I walked down the hallway on the way to kitchen that I realized my girlfriend was sleeping in one of the spare bedrooms.
When I asked my girlfriend about the occurrence, she explained that my snoring was keeping her awake. I like waking up to a soft, warm body so something needed to change.
I performed an exhaustive internet search of snoring (causes and cures). I read the reviews of at least a dozen products before I decided to try VitalSleep. I ordered your product. It arrived promptly. I fit it to my bite following the directions meticulously. Long story short, it worked immediately. Happy girlfriend = better tasting food + warmer bed."
Another aspect of VitalSleep is that it carries an affordable price tag that includes free replacements during the one year warranty period. This anti-snoring mouth guard works to help reduce breathing issues and avoid disruptive sleeping patterns. There is a number of risks associated with lack of good sleep, such a compromised immune system and even sleeping disorders. VitalSleep offers a customizable option to help people live a more rested lifestyle.
For information regarding VitalSleep Reviews please visit: http://www.vitalsleep.com./