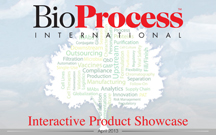 New York, NY (PRWEB) April 30, 2013
BioProcess International (BPI) announces the publication of the Spring 2013 Interactive Product Showcase featuring the latest products, equipment, services and expertise being developed for biopharmaceutical manufacturing. With the publication of this showcase, BioProcess International continues to bring effective solutions to the attention of industry leaders.
Featured companies include:
AdvantaPure
Advanced Instruments
Asahi Kasei Bioprocess
Bend Research
Bio-Rad Laboratories
Catalent Pharma Solutions
Charles River
Charter Medical
Colder Products Company
Corning Life Sciences
Eppendorf AG
Finesse Solutions
Georgia Department of Economic Development
Lancaster Laboratories
Life Technologies
Meissner Filtration Products
Parker Domnick Hunter
PBS Biotech
Pfenex Inc
Sartorius Stedim Biotech
Spectrum Laboratories
TerumoBCT
United States Pharmacopeia
Value Plastics
About BioProcess International
BioProcess International™ (http://www.bioprocessintl.com) is a monthly, controlled-circulation magazine devoted to the development, scale-up, and manufacture of biotherapeutics and biodiagnostics. Each issue provides the global industrial biotherapeutic community with up-to-date, peer-reviewed information detailing the business, politics, ethics, applications, products, and services required to successfully drive biopharmaceuticals, vaccines, and biodiagnostics through the development and manufacturing process.
BioProcess International™ is part of the IBC Life Sciences Division of Informa, plc, a leading international provider of specialist information and services for the academic, professional and business communities. Informa offers a world-class portfolio of publications, events and data services for researchers, students, lecturers and professionals in the academic and scientific communities worldwide.
View the BioProcess International Spring 2013 Interactive Product Showcase now at: http://www.bit.ly/15Mg0KB
Subscribe today at http://inf-sub.halldata.com/site/INF000015BCland/init.do