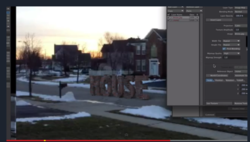 Chicago, Illinois (PRWEB) April 30, 2013
3DGarage.com™, a worldwide producer of instructional training videos for 3D modeling and digital content creation, announced today its new "LightWave 11.5 Up to Speed" instructional training video from Dan Ablan is now available directly from 3DGarage.com.
An award-winning trainer and animator, Dan Ablan has authored numerous how-to books for LightWave, including the "Inside LightWave" series by New Riders Publishing. The "LightWave 11.5 Up to Speed" training video covers all the new features in the latest release of LightWave on a project basis including features such as the Genoma rigging system with modular presets, new tools for the LightWave Modeler, After Effects Interchange, and other features like FiberFX, Instancing, Flocking, Bullet Dynamics and more.
The courseware includes HD-resolution instructional training that takes the user through the all the new features of LightWave 11.5 3D modeling and animation software. The "LightWave 3D v11.5 Up to Speed" courseware is now available for $64.95 (US) direct from 3DGarage.com.
About 3D Garage.com
3D Garage.com, a division of AGA Digital Studios, Inc., encourages artists and animators to "tune up your brain," with comprehensive training courseware for Adobe Photoshop, Lightroom, Luxology's modo, and Newtek LightWave 3D software. Founded in 1994, AGA Digital offers content rich branding videos which include 2D / 3D animation and postproduction services for clients such as United Airlines, Wrigley, Abbott, NASA, Lockheed Martin, and others.