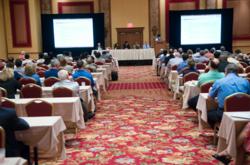 Washington D.C. (PRWEB) April 30, 2013
The National Association for Surface Finishing (NASF) will present an International Manufacturing Panel Discussion at the 95th Annual SUR/FIN Manufacturing & Technology Tradeshow & Conference, on Monday, June 10-12, 2013. The panel will include an esteemed list of international manufacturing experts from the United Kingdom, Singapore, Japan, Mexico, Brazil, China and Canada who will discuss the future of manufacturing.
As reported by the Manufacturing Institute, industrial output continues to grow, manufactured products are globally competitive, and the rebound from the recession surprised on the upside. While U.S. manufacturing itself is the ninth largest economy in the world, its impact on the overall U.S. economy is much larger when the "multiplier effect" is taken into account. In fact, millions of additional American jobs are a direct result of U.S. manufacturing.
The panel event will run from 3:45 to 5:00pm Monday, June 10, 2013 at the Donald E. Stephens Convention Center in Rosemont, IL as part of an extensive schedule of sessions planned during SUR/FIN.
In conjunction with the conference, over 150 companies from around the country will exhibit the latest in products and technologies, offering in-depth presentations, special product features and live demonstrations.
More information on the conference and tradeshow can be found at http://www.nasfsurfin.com
Registration for the conference is now open at the NASF SUR/FIN registration site.
About SUR/FIN
SUR/FIN is the industry's ultimate educational resource covering the most timely and critical issues for R&D, project systems, engineering, quality, and regulatory affairs from professionals within the surface finishing industry. Attendees can expect to come with their most pressing questions and leave with the information they need to improve their products, processes, and business.
About NASF
The National Association for Surface Finishing (NASF) is the largest trade association representing the surface finishing industry as a key segment of the North American and Global manufacturing value chain. Their mission is clear: Advance a sustainable future for the North American surface finishing industry. For further information on the association, contact Phil Assante at PAssante(at)nasf(dot)org or visit the associations website at http://www.nasf.org.