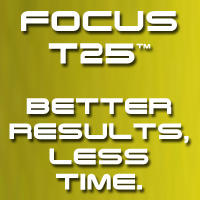 Carl asked Insanity® creator, Shaun T., to create a program for busy people like him, to get "maximum results in minimal time."
Santa Monica, CA (PRWEB) April 30, 2013
The CEO of Beachbody LLC, Carl Daikeler, mentioned publicly in a comment on his blog that Focus T25™ will be first released for sale to Beachbody distributors during the Beachbody 2013 annual summit in Las Vegas June 20–23. It'll then be available to the public in July, according to a Tweet on his Twitter profile on April 28th.
Carl asked Insanity® creator, Shaun T., to create a program for busy people like him, to get "maximum results in minimal time." Insanity is the "#1 home workout in the country today," according to Carl in his blog post. People who have gotten special early access to Focus T25 say it's awesome and are highly anticipating this will be a new blockbuster workout program. Kelly Martell, an Independent Beachbody Coach, described the "cardio routine was like a combo of Insanity, TurboFire® (or Les Mills Combat) and Hip Hop Abs® in one 25 minute workout." Independent Beachbody Coaches are equally excited for its upcoming release, many asking for it to be released sooner. Carl replied, "They come out when they're ready. That's how we work!"
Focus T25 is not only great for CEOs, but busy moms and dads, young people, or anyone who wants to look good and get on with the rest of their life. The program is designed to "focus your intensity for 25 minutes… 5 days a week" with the results of an hour program in under 30 minutes, and without the limitations of shorter programs like 10-Minute Trainer®. Shorter workouts also mean people would be willing and able to do them more frequently. Workout programs at home save people more time instead of traveling to the gym, save money on gym membership fees or personal trainers, and increased privacy by being at home.
Beachbody is also well known for the popular P90X® series by Tony Horton and many more workout programs and nutrition products like Shakeology®. The product line covers the range of peoples' needs such as fitness, weight loss, and muscle building, whether they prefer shorter or longer workouts, and various styles of instruction such as intense or dance. Beachbody supplements compliment the workouts to accelerate weight loss or muscle gain. Beachbody products are sold through Independent Beachbody Coaches, which as of Friday April 26th, 2013, there are 114,976 coaches.
About HelpMeGetFit.com:
HelpMeGetFit.com is by an Independent Beachbody Coach and offers the full range of Beachbody products. It will carry Focus T25 when it comes out in July and may take pre-orders closer to the date. Some of the currently most popular products it sells are P90X2®, Les Mills Combat, TurboFire and many others.