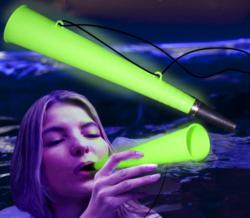 Naturally, a graduation party should be just as bright and glowing as any graduate's face on their big day.
Los Angeles, CA (PRWEB) April 30, 2013
Graduation season has come to mean three things – ceremonies, celebrations, and parties! For most, however, throwing an event that can match the excitement of any high school or college graduation can be a tricky task.
That's why Glowsource.com, internet retailer of glow in the dark party supplies and light up party favors, has expanded their product line to provide their customers with tons of fun, affordable, and exciting graduation glow party supplies for their big events.
With the addition of roughly 40 items, Glowsource.com now has a huge variety of party supplies. Ranging from cheap glow party supplies that can be added to a cap and gown, to elaborate light up party supplies and decorations that illuminate an entire party, there is something for every graduation party.
"Graduation is such an epic event," says Vice President of Glowsource.com, Whitney Callahan. "Naturally, a graduation party should be just as bright and glowing as any graduate's face on their big day."
Here are some of the new and popular glow and light up party supplies sure to make any graduation party a huge, glowing success:
Light Up Champagne Cups – What says "celebration" like a light up champagne cup? These are the perfect glass to cheers a job well done!
Light Up Balloons – Balloons usually mean party time and when LED lights are added to them, it must mean the ultimate party is in succession.
Glow Woofer Horn – Alert: Graduate coming through! That's pretty much what these glow horns can be used for.
Light Up Necklaces – These LED necklaces blink and flash and make the perfect blue accessory to a graduation get-up.
Glow Stir Sticks – Use these to stir your mixed, celebration drink, or just to light it up for fun (for those underage).
LED Shutter Shades – Only the "coolest" people should wear these light up shutter shades. It takes a certain swagger to really rock these correctly – A swagger only graduates have.
Light Up Jelly Rings – For those who like to grab everyone's attention, these flashing rings will have all the heads turning!
For custom print inquiries contact whitney(at)glowsource(dot)com.
About Glowsource.com:
Glowsource.com strives to provide customers with a wide range of one-of-a-kind glow and light up products for making parties a memorable success. Offering wholesale/bulk and discounted prices, Glowsource.com is a complete one-stop shop for must-have glow and LED items graduation 2013.
Established in 1999 with the introduction of "Cool Glow" drinkware, Glowsource.com has since been bringing customers the latest lighted and glow party supplies to make parties tremendous fun. With 13 years experience and superior customer service, Glowsource.com is the ultimate glow party supply shop!
Contact:
Glowsource.com
Whitney Callahan
(323) 878-1280
whitney(at)glowsource(dot)com