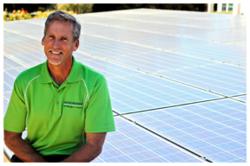 options are great for the end-user, and we are happy to offer them
Murrieta, CA (PRWEB) April 30, 2013
"It has been a financial roller coaster in the solar game," said Steve Fulgham, CEO of Ambassador Energy. "When we got into the business years ago, only people with cash or those who could borrow money from traditional lending establishments were able to 'go solar' and offset rising energy costs. Now, there are many ways to pay, including lots of options that are no money out of pocket. Options are great for the end-user, and we are happy to offer them."
"This is great news for solar shoppers," Fulgham continued, "as people now have a plethora of payment solutions." Depending on whether one is a residential or commercial customer, solar seekers are learning to dig deep and know their options.
Business owners may choose from a growing list of third-party vendors, like banks, credit unions, and equipment lenders. They purchase solar, typically, like they buy other types of equipment, using whatever payment method makes sense for their particular business. On the payment option menu are several types of leases, loans and power purchase agreements. "Of course, cash is still king and goes a long way to procuring a great solar deal," said Kelly Smith, president of Ambassador Energy. "However, when business can't or don't want to use their cash, there are amazing options available."
For homeowners, traditional lending and cash now represent just a small piece of the solar-purchasing pie. With up to 70% of the residential solar buyer pool utilizing leases or power purchase agreements, solar companies like Ambassador Energy must keep a robust offering and continually train their salespeople to help customers decipher the best solutions for their specific needs.
"I think it is criminal, as a solar company, to go out with only one agenda," said Smith. "At the risk of totally confusing the public, home- and business-owners should learn what is out there. At Ambassador Energy, we offer all the solutions currently on the market and work with our customers to find the ones that work for them. Rather than slam-dunking a sale, I encourage shoppers to invest the time so that they make the right choices for them, not the solar company."
About Ambassador Energy
Ambassador Energy [AE] has a three-pronged business model, which includes Ambassador Energy College Solar Training, the Ambassador Energy Agency Program and the installation arm, Ambassador Energy EPC. On staff are NABCEP Certified PV Installers, NABCEP Certified PV Technical Sales professionals [Fulgham/Kelso] and multiple NABCEP EL graduates. AE holds California licenses General Contractor B, C10 Electrician and C46 Renewable Energy. Ambassador Energy is IREC/ISPQ accredited. AE Agencies are nationwide. Ambassador Energy EPC installs PV systems throughout California and the US.
Keep up with Ambassador Energy on Facebook.