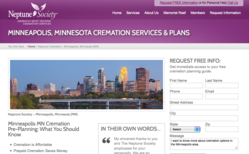 A great team of individuals who truly care about the people with whom they work.
Minneapolis, MN (PRWEB) April 30, 2013
Now open for 18 months, Neptune Society Minneapolis is on track to double its business this year. Serving the seven county metro area of Minneapolis, Neptune Society provides simple, dignified, and affordable Minneapolis cremation services at the time of death and through advance planning.
Sales Manager Jeff Greenbush attributes the growth of the business to both the quality of services that Neptune Society, a national cremation society, provides and "the great team of individuals who truly care about the people with whom they work." Not only is it a capable and compassionate team, it is a group that has personally proven their dedication to Minneapolis communities. For his part, Greenbush volunteers as a financial counselor to help families in his church community develop healthy priorities for financial success.
Service manager Laura Anderson has committed herself over the last six years to ensuring our soldiers in Afghanistan are remembered. As part of Operation Minnesota Nice, Anderson sends monthly care packages to those soldiers who would not otherwise receive a lot of mail. The care packages include treats, toys, books, CD's, and silly items. This June, she'll put together special 4th of July packages for soldiers nominated by their captains and sergeants. As a group, Operation Minnesota Nice has sent boxes to 14,000 soldiers.
The same level of commitment and care goes into their business, helping Minnesota families planning a Minneapolis cremation for final needs. For a service that everybody needs but nobody wants, the Minnesota Neptune Society team has grown their business by making a potentially difficult and stressful time as easy and compassionate as possible.
About Neptune Society
Neptune Society, America's most trusted cremation provider since 1973, offers cremation services nationwide as well as ancillary services. For 40 years, Neptune Society has served families with professional, affordable cremation services. In addition to scatter at sea services, the Neptune Memorial Reef off the coast of Florida offers a unique cremation memorial.