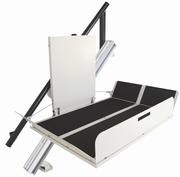 The Home Lift Store is turning back the clock with special prices not seen in a decade
(PRWEB) April 30, 2013
Those who have contemplated purchasing a mobility lift of some kind, whether it be a stairlift, vertical platform lift, inclined platform lift, etc., but have been putting it off, should strongly consider taking advantage of this opportunity. The Home Lift Store is turning back the clock with special prices not seen in a decade on various handicapped lifts. In addition, these sale prices all include free shipping, saving the consumer additional hundreds of dollars. Following is a sample of the sale prices now being offered:
Brooks Lincoln Indoor Stairlift – Retail Price $2450.00, Sale Price $2049.00. The Brooks Lincoln is a premium model stairlift made by Acorn and is identical to the Acorn Superglide 120, albeit with a different color. Consumers can normally expect to pay around $3000.00 to purchase this model with installation. By combining a DIY (do-it-yourself) approach with this special offer, customers can save almost $1000.00.
Harmar SL350 – Retail Price $2249.00, Sale Price $1925.00. This sale represents the lowest price ever offered by The Home Lift Store for this product.
Harmar 4' Residential Vertical Platform Lift – Retail Price $4495.00, Sale Price $3995.00. This deal also includes free shipping with lift gate service, an amazing value.
Harmar Inclined Platform Lift – Retail Price $8450.00, Sale Price $7425.00. This sale is by far the best bargain. Most vendors sell this item at just under $10,000. The Home Lift Store has slashed their already well-below-market price by over $1000.00! There will never be a better time to buy an inclined platform lift.
To learn more about special pricing on all the various mobility lifts offered by the Home Lift Store, please visit their website at http://www.homeliftstore.com. These prices are for a limited time only, so act now before it is too late.
The Home Lift Store is a division of New Line Products, LLC. Its founder, Dennis Corrado, has over 12 years experience in the mobility lift industry, including installation, service, and troubleshooting.