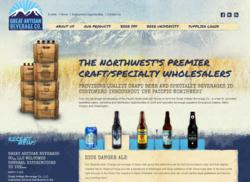 Seattle, WA (PRWEB) April 30, 2013
Local web design firm, efelle media, launches two new beverage distribution websites for Bellevue, WA-based Great Artisan Beverage Company, and Arlington, WA-based Crown Distributing. Both their websites include a FusionCMS website content management system that powers their online catalogs, SEO improvement, blog, email newsletter marketing, and more.
Great Artisan Beverage Company is a group of family-owned distribution companies that specializes in quality craft beers and specialties beverages. The company strives to be the very best craft and specialty distributor to both suppliers and retailers in the Pacific Northwest.
Crown Distributing started in 1934 in Everett, Washington and has since expanded and become a partner with Anheuser-Bush, the world's largest brewer. With their new website, the company offers their customers a better way to view products they offer, pricing & service area availability.
Both Great Artisan Beverage and Crown Distributing needed a new website management system to handle their beverage catalogs and online marketing needs. The companies enlisted the help of Seattle web design firm, efelle media, for business branding assistance and to provide a content management system and website hosting services. In addition to getting branded, custom website designs, Great Artisan Beverage and Crown Distributing also transitioned onto efelle media's website content management system, FusionCMS.
efelle media's web-based FusionCMS platform allows both companies to make website content changes, in real-time, and manage everything from customer accounts and inventory to email newsletter campaigns and blog posts. The platform streamlines administrative tasks, decreases website maintenance costs, and even builds long-term organic search engine optimization (SEO).
To check out Great Artisan Beverage Company's new site, visit http://www.greatartisanbeverage.com/.
To check out Crown Distributing's new site, visit http://www.crowndistributing.com/.
To learn more about efelle media, visit http://www.efellemedia.com.
About efelle media
With more than 400 successfully completed custom website design and development projects under its belt, efelle media specializes in custom website design and development with an emphasis in organic search engine optimization. Over the past 8 years, efelle media has grown into a full, in-house team of web design and developers, internet marketing professionals, and production and support staff and continues to provide complete online marketing systems for clients nationwide from its Seattle offices.
In addition to its web design services and website content management system for distribution and wholesale businesses, efelle media also offers other custom online marketing solutions for medical industry professionals, law firms, eCommerce, real estate industry professionals, chambers of commerce, and more.