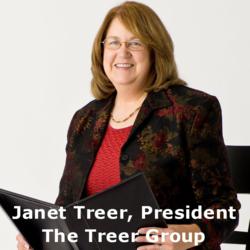 Leaders grow through a variety of methods, and a well-designed and implemented mentorship program is invaluable.
Lancaster, PA (PRWEB) April 30, 2013
The Treer Group is now offering a specialized service that helps businesses and organizations plan, create and implement internal mentorship programs. It is designed to help companies enhance their staff development programs, improve employee performance and help people achieve career success.
"A mentoring program can be highly beneficial to those involved by helping the mentee develop more quickly and fully, by enabling the mentor to grow through helping another and by enabling the company's leadership team to become more effective," says Janet Treer, President of The Treer Group, a strategic planning, coaching, leadership development and management consulting firm based in Lancaster, PA. "It also deepens employee loyalty and adds interest and fulfillment to those involved."
The program begins with an assessment of the business, its objectives, culture and employees. A custom mentorship program is then designed that aligns with the company and its people. Key components are:

Purpose – the company, the mentor and the mentee should be on the same page.
Communication – two-way, regular interaction.
Trust – essential to a mentor-mentee relationship.
Process – an effective process includes four stages of mentoring: planning, building relationship/negotiating agreement, developing and maintaining momentum and ending the formal relationship.
Progress – moving together toward established goals.
Feedback – positive and corrective advice and feedback.
"Companies become more successful by ensuring that they are led by strong, qualified, effective leaders," says Treer. "It is important to understand that leaders grow through a variety of methods, and a well-designed and implemented mentorship program is invaluable."
Download Janet Treer's article, Leaders & Mentoring
About The Treer Group: The Treer Group provides coaching, assessments, tools and guidance to help organizations and individuals identify areas in need of improvement, discover practical solutions and implement long-lasting change that comes from within. Janet Treer, President, founded The Treer Group in 2007.