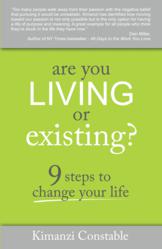 Shippensburg, PA (PRWEB) April 30, 2013
Are You Living Or Existing? 9 Steps to Change Your Life, by Kimanzi Constable, will be released today from Sound Wisdom Publishing. The book lays out Constable's 9-step plan to get readers started on the journey to living the life of their dreams.
Constable, who worked in a job he "hated" for 12 years, delivering bread, getting very little rest or time to spend with his family, decided in 2010 that "enough was enough" of the just existing level each day, but he wanted to start really living and making his dreams a reality. Through some eye-opening experiences from a not-so-successful start on this journey, Constable learned to stop focusing on just the "money" aspect and to focus on the "true meaning" of his goals and dreams. After some regrouping and determination, Constable forged on. Reaching his own goals of becoming a successful author (to date, his first two self-published books have sold 80,000 copies), an international speaker who has spoken to audiences around the world, a life coach, and corporate consultant, Kimanzi brought true joy to all of his supporters and especially his family.
When asked what has been the most exciting part of the journey, Kimanzi responded, "Even though I had self-published and had some success, my grandfather never had a chance to read my writing. He is 87 years old and never touches computers. When the book officially hit the shelves at Barnes and Noble, I picked up my grandfather and took him to buy a copy. The highlight of this entire journey was watching him hold that book in his hand, look at me and start crying, I completely lost it! He had always given me and my brothers books when we were younger, so that book he was holding in his hands, was in greatly influenced by him!"
In Are You Living or Existing, Constable shares his message of hope, teaching readers how to reach their goals and strive to be their best, not only changing their own lives, but through their positive example, encouraging others to start their own amazing journey.
Kimanzi Constable lives in Wisconsin with his wife Tanya and their three beautiful children. He has dedicated his life to help people live the full and abundant life they deserve.
Located in Shippensburg , PA, Sound Wisdom Publishing is a publisher of personal development, business growth, leadership, health, fitness, and finance products. To learn more about Sound Wisdom visit http://www.soundwisdom.com.