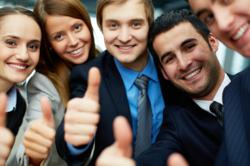 Audeo Academy for Entrepreneurs shares knowledge and real-world experience that helps the Millennial Generation and other age groups experience income-producing business success.
Orem, UT (PRWEB) April 30, 2013
Audeo LLC announced today that it has formed an academy of honorary membership to mentor the Millennial Generation and other generations in income-producing entrepreneurial skills and experiences.
Generation Y, known as the Millennial Generation, born 1982 or later, are finding it increasingly hard to find jobs according to a recent news release by David Pasch, founder of Generation Opportunity. They released a non-seasonally adjusted (NSA) unemployment data for the Millennial Generation in March 2013 which partially inspired a group of young entrepreneurs and selected mentors to create the Audeo Academy for Entrepreneurs.
Audeo, which means "I Dare" in Latin, was formed to provide knowledge and train and mentor people interested in starting their own income-producing business with a range of entrepreneurial tools and project and event experiences designed to lend an advantage to the beginning entrepreneur. Through Audeo's program the Millennial Generation, and others, will be more prepared to face real-world challenges in a unique setting that they could not easily find anywhere else.
"My father wanted to be his own boss so he could spend more time with his children and more time doing the things he loves," said Ben Smith, Audeo co-founder. "Audeo Academy will provide the knowledge and experience our generation needs to produce an income that will allow them to do the same for their families." Watch his story.
The team at Audeo LLC has garnered successful entrepreneurial experience to form a training program which includes; online and live broadcast training sessions, real-time projects, and event execution along with social media skills to have entrepreneurs immediately earning an income while investing a part-time effort. Projects will include everything from local fund-raising basketball tournaments and bike races to national and international events like the Academy Awards in Hollywood, Fashion Week in New York, and a Bluegrass Festivals in Ireland.
The Audeo Academy partnership team includes, in alphabetical order: Bo Congdon, Jeremy Hall, Dane Johnsen, Peter Johnsen, Josephine Lee, McKalin Olsen, Keith Payne, Donna Root, Ben Smith, Alex Smith, Britton Smith and Kim Power Stilson.
"I want my daughter to know now what I had to learn over 20 years as a small-business owner," says Kim Power Stilson, radio host and author of the new book Choose Surthrival. "Showing our kids how to be income-producing entrepreneurs as they start out in life is one of the best gifts we can share with the Millennial Generation. Audeo Academy will give hopeful entrepreneurs an expedited advantage."
Not limited to the Millennial Generation, all entrepreneur-minded business owners may apply to participate in the income-producing enterprise with Audeo Academy.
Josephine Lee, of the Baby Boomer Generation, originally moved from Singapore via Canada to experience entrepreneurial success. Watch as she shares her experience on YouTube.
"People want to become entrepreneurs but they don't know how to get started," said Jo Lee. "Audeo Academy provides experiences and tools that mentor people to rapidly build an income producing business."
Audeo LLC entrepreneurship mentoring group will be inviting hopeful entrepreneurs to be considered for training classes that begin in June. To be considered, please contact Peter Johnson or Jeremy Hall at audeoinfo(at)gmail(dot)com. Please visit Audeo Academy on Facebook.