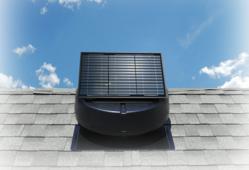 We are pleased to offer new, improved, and more powerful solar attic fans to our customers to suit just about any situation. Keep in mind, all our solar attic fans are qualified for the 30% federal tax credit and many local rebates.
Incline Village, NV (PRWEB) April 30, 2013
The award winning solar attic fans from U.S. Sunlight are industry acclaimed for innovation, quality, and ease of installation. To further improve the solar attic fan line, based on the positive response of the 15 watt 9915TR, U.S. Sunlight has expanded to include a 20 watt and 30 watt model, the 9920TR and 9930TR respectively. The 9915TR was the first Solar Attic Fan to have the patent-pending Smooth Air Deflector® design, which allows for up to 30% more improved air flow. Now the 9915TR, 9920TR, and 9930TR all include the Smooth Air Deflector® along with the brand new black solar panels for improved camouflaged appearance as well as Quick Connectors for easier installation.
15 Watt Panel, 38V efficient DC Motor, 14" Fan blades
Ventilates up to 1900 sq. ft.
Innovative new black, hail-resistant solar panel for improved camouflaged appearance
Patent-pending Smooth Air Deflector® design for up to 30% improved air flow
Black commercial-grade ABS Shroud resists fading, denting and rusting
Quick Connectors for ease of installation
Compatible with the innovative Solar Controller® for optional after-dark fan operation
20 Watt Panel, 38V efficient DC Motor, 14" Fan blades
Ventilates up to 2400 sq. ft.
Innovative new black, hail-resistant solar panel for improved camouflaged appearance
Patent-pending Smooth Air Deflector® design for up to 30% improved air flow
Included 15' of Wire Extension for the option to remote mount the solar panel
Black commercial-grade ABS Shroud resists fading, denting and rusting
Quick Connectors for ease of installation
Compatible with the innovative Solar Controller® for optional after-dark fan operation
30 Watt Panel, 38V efficient DC Motor, 14" Fan blades
Ventilates up to 2800 sq. ft.
Innovative new black, hail-resistant solar panel for improved camouflaged appearance
Patent-pending Smooth Air Deflector® design for up to 30% improved air flow
Included 15' of Wire Extension for the option to remote mount the solar panel
Black commercial-grade ABS Shroud resists fading, denting and rusting
Quick Connectors for ease of installation
Compatible with the innovative Solar Controller® for optional after-dark fan operation
President of U.S. Sunlight Corp, Robert Buckley, states, "U.S. Sunlight has established itself as a leader in the energy efficient, home improvement industry with the complete line of award winning solar attic fans, all purpose ventilators and the Solar Controller. We are pleased to offer new, improved, and more powerful solar attic fans to our customers to suit just about any situation. Additionally, the improved aesthetics and ease of installation will benefit just about every application. Keep in mind, the new 15 watt, 20 watt, and 30 watt solar attic fans are also qualified for the 30% federal tax credit and many local rebates and incentives listed on our website at http://www.ussunlight.com/"