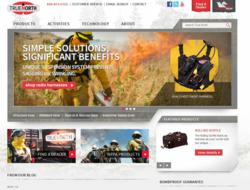 Seattle, WA (PRWEB) April 30, 2013
Local web design firm, efelle media, launches new online catalog website for Seattle, WA-based fire and safety industry clothing and gear manufacturer. Its FusionCMS website content management system powers True North Gear's online product catalog, SEO improvement, blog, and more.
True North Gear is a family owned and operated company whose products are distributed worldwide. In addition to backpacks and bags for firefighters under the True North® label, their products also include a broad range of fire resistant clothing under the DragonWear™ label. True North's philosophy has been to provide innovative products at competitive prices, then back them up with a lifetime warranty and great customer service.
After more than 20 years in business, True North Gear needed a better website management system to handle their increasing number of products and to showcase the locations of their distributors. The company enlisted the help of Seattle web design firm, efelle media, for business branding assistance and to provide a content management system and website hosting services. In addition to getting a branded, custom online catalog website design, True North Gear also transitioned onto efelle media's website content management system, FusionCMS.
efelle media's web-based FusionCMS platform allows the manufacturing company to make website content changes, in real-time, and manage everything from product pages and static website content to blog posts. The platform streamlines administrative tasks, decreases website maintenance costs, and even builds long-term organic search engine optimization (SEO).
efelle media is also looking forward to completing DragonWear.com, a second website redesign project for the True North Gear company, by Summer 2013.
To check out True North Gear's new site, visit http://www.truenorthgear.com.
To learn more about efelle media, visit http://www.efellemedia.com.
About efelle media
With more than 400 successfully completed custom website design and development projects under its belt, efelle media specializes in custom website design and development with an emphasis in organic search engine optimization. Over the past 8 years, efelle media has grown into a full, in-house team of web design and developers, internet marketing professionals, and production and support staff and continues to provide complete online marketing systems for clients nationwide from its Seattle offices.
In addition to its web design and website content management system for manufacturing businesses, efelle media also offers other custom online marketing solutions for medical industry professionals, law firms, real estate industry professionals, chambers of commerce, and more.