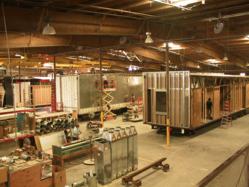 Our portable classrooms and modular buildings are all available through purchasing co-ops including the Texas BuyBoard, TIPS/TAPS, and HGACBuy
Mansfield, TX (PRWEB) April 30, 2013
Ramtech Building Systems of Mansfield, Texas has announced that the company will be expanding their lease fleet inventory of portable classrooms and developing other modular building products for sale and lease to meet the projected demand for school and government facilities in the fast-growing cities and counties located within the Eagle Ford Shale Play and Permian Basin areas. Ramtech provides a wide range of modular building options including their industry-standard portable double classrooms and a complete line of multiple classroom and classroom wings that are available to meet both temporary or long-term use requirements. Ranging in size from 4 to 16 classrooms, the company's standard floor plan designs start at under $40 per square foot and can also be customized to meet specific applications. According to Gary White, Ramtech's vice-president of sales and estimating, "in addition to our expansive product offerings, we can provide our clients a no cost project planning and budgeting analysis, fast building installation, and procurement availability through co-ops including the Texas BuyBoard, TIPS/TAPS, and HGACBuy." The 20-county Eagle Ford Shale area now accounts for over $61 billion in economic activity and is estimated to support more than 116,000 full-time jobs. In addition, more than $1.01 billion has been provided to local governments for schools, hospitals, emergency services, and other government agencies. Ramtech expects to have the additional product inventory of portable classrooms off-line and available for delivery throughout the summer.
All of the modular building products will be built at Ramtech's Mansfield, TX manufacturing facility, part of a 20 acre development located in the southern part of the Dallas-Fort Worth Metroplex. The company has convenient access to the major transportation arteries that serve cities throughout Texas and the Southwest. Structured as a vertically integrated design-build construction company, Ramtech provides space planning, design services, manufacturing, site construction and finish-out on every project they produce. The company maintains a consistent workforce of production workers and supervisory personnel with an average of 13 years experience, many with tenures over 20 years. This experience, coupled with Ramtech's approach to modular manufacturing and construction, allows for greater control at each step in the building process resulting in significant time and money savings for their clients.
About Ramtech Building Systems
Since 1982 Mansfield, Texas-based Ramtech Building Systems has been providing innovative modular buildings for Fortune 500 and commercial companies, government agencies, healthcare providers, and educational institutions throughout the Southern United States. As a design-build modular construction company, Ramtech offers full in-house design, a manufacturer direct product, and complete site construction services all within a single-source solution. By always emphasizing a value engineering approach to every job, Ramtech has successfully completed over 2,500 prefabricated buildings for temporary and permanent projects of all sizes. For more information, visit the company's website at ramtechmodular.com.