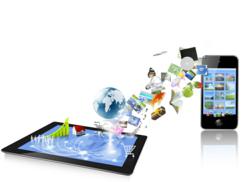 All it takes is a mobile-friendly extension of your existing webpage, and your firm could be tapping into this ever-growing number of mobile searchers.
Annapolis, Maryland (PRWEB) April 30, 2013
Ever Wonder, "Why does a law firm need to bother with a mobile website or downloadable smartphone/tablet application (app)?"
There are several reasons, but the most important is that mobile search accounts for almost 1/3 of all internet searches. Firms that are not concentrating on the mobile consumer are likely losing clients to competitors with a mobile presence.
A recent independent study found that over 40 percent of consumers reported that they would not go to a competitor's site after a bad mobile experience. The leading cause of these "bad mobile experiences" occur when a prospective client visits a website from his mobile device, but a mobile-optimized version of the site is not available.
Full-version sites run into a host of problems when accessed on mobile platforms, including: improper alignment of content, increased load time or request timeouts, reduced functionality of interactive features, improper zoom that makes a site useless to the consumer, and many more.
With the growing popularity of smartphones and tablets, more and more users are using mobile devices as their primary means of surfing the web. Despite this fact, many firms are passing up a great opportunity to utilize mobile marketing techniques and strategies. All it takes is a mobile-friendly extension of your existing webpage, and your firm could be tapping into this ever-growing number of mobile searchers.
The benefits of having a mobile-ready site are numerous. For one, the portability and accessibility of these devices is creating a generation of people who never let their cell phone get too far out of reach. If an attorney's site is available to these gadget surfers, you are greatly helping the online marketing strategy. Second, nearly all of these devices have search capabilities through the big-name search engines (Google, Yahoo & Bing). If a law firm's site cannot be found on a mobile search, that entire market segment is blind to the entire firm's services. Finally, location-based results are hugely important to web users on-the-go. A properly configured mobile site will be setup to provide relevant data such as phone number and address to people looking specifically for law firm services, within your area.
There are literally dozens of best practice tips and tricks that should be employed when creating a mobile site, below is a small sampling of important guidelines for law firm mobile sites:

Make it small for the smart-phone sized screen but well-designed
Keep it simple and make key information (the firm's name, address and phone number) easily accessible
Keep information updated
Link to the firm's full website
In conclusion, a mobile-ready site is an integral part of any firm's online presence in today's on-the-go world. For more information on website development, and mobile site implementation, visit the mobile website section at: http://topsiteslaw.com/OurServices/BeSeen/Mobile.aspx.
About TopSites Law
TopSites Law is a leading online marketing and communications agency which concentrates on delivering full-service marketing, advertising, website development, public relations and interactive design from scale to local law firms. TopSites Law is based in Annapolis, MD with a second office location in Los Angeles, CA. For further information, please visit http://www.topsiteslaw.com or call (855) 576-7766.