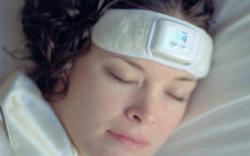 Biofeedback is like brake lights on the car in front of you - if you train yourself to instinctively respond to it, it can keep you safe.
Arlington, Massachusetts (PRWEB) April 30, 2013
Holistic Technologies has learned from its German affiliate gapp+dörner GmbH that the SleepGuard biofeedback headband was featured on Germany's popular morning TV show " RTL Punkt 6" on February 20. The show's producers heard about the biofeedback headband and initiated the request to do a segment featuring a young woman of their choosing who suffered greatly from TMJ disorder. The show features medical professionals examining the young woman before and after her multi-week biofeedback treatment, and remarking on how much her muscle spasm symptoms abated over the course of using nighttime biofeedback. German-language video from the segment can be viewed on the gapp+dörner website.
"Fortunately, the woman featured in the video was one of the more than 80% of users who does well with the biofeedback headband," commented Lee Weinstein, CEO of Holistic Technologies after hearing of the coverage. "Unlike taking a pill, benefiting from nighttime biofeedback depends on mental alignment with the process, because while the biofeedback headband reliably provides a quiet audio signal to remind the user to relax, it is up to the user to respond to that signal. "Biofeedback is like brake lights on the car in front of you," says Weinstein. "If you train yourself to instinctively respond to it, it can keep you safe, but if you train yourself to ignore it, that's a different story."
Unlike mouth guards, which protect tooth enamel but may even increase addictive nighttime clenching and grinding, the SleepGuard biofeedback headband goes after the root cause of TMJ pain – the addictive clenching habit itself. The biofeedback headband is not only an active "partner" in helping people modify their clenching habits, it also tracks progress every night by counting the number of clenching incidents and keeping track of the total time the user clenches throughout the night. In order that users can most meaningfully track their progress, it is recommended that during the first three nights of use, the headband is used in silent mode to gather baseline data (data on how much the person normally clenches without the biofeedback).
The woman in the German TV segment was able to reduce her nightly clenching from over 200 seconds per night to about 30 seconds per night, and she had a substantial reduction in jaw pain and muscle spasms in her upper back.
"We feel it is basically unfair that almost all other TMJ and migraine treatments don't even have money-back guarantees", says Weinstein. "We have made the SleepGuard biofeedback headband free to try. We feel no TMJ or migraine treatment should have to be paid for unless it works for the person using it."
Interviews with people who were able to reduce teeth grinding and reduce or eliminate TMJ pain can be arranged upon request for members of the press, and Holistic technologies makes raw clinical trial data available to university researchers.
Holistic Technologies LLC has been providing nighttime biofeedback relief to thousands of bruxism sufferers since 2007. The company website is http://StopGrinding.com. News and new information regarding the SleepGuard biofeedback headband may be received automatically through the SleepGuard news RSS feed.