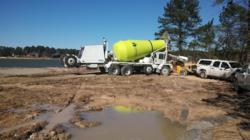 The maximum pumping pressure for installation was only 18 pounds per square inch.
Williamsburg, Virginia (PRWEB) April 30, 2013
Concrete Jack cellular concrete crew recently completed a pipe abandonment project using lightweight cellular concrete in Fayetteville, North Carolina. The project consisted of abandoning just over 1600 linear feet of 6" PVC pipe, which ran across the width of a dam.
The project was notable in that there was only one access point for the cellular concrete installation. The entire length of pipe was filled with lightweight cellular concrete by pumping from one end of the 1600 foot long pipe until cellular concrete came out the other end of the pipe on the other side of the lake. The maximum pumping pressure for installation was only 18 pounds per square inch.
"Cellular concrete was the ideal material for this pipe abandonment because it can easily be pumped for long distances," said Preston Roberts, Concrete Jack's owner. "The material coming out of the pipe 1600 feet away is the exact same blend going into the pipe at the pump, so the strength is uniform, and the filling is complete."
About cellular concrete: Lightweight cellular concrete is a mixture of Portland cement and water, to which a foaming agent is added. The foaming agent reacts with water and expands, creating a lightweight mixture similar to a milkshake. Because cellular concrete has just two components, it can be pumped long distances without segregating or plugging, such as this pipe abandonment project.
Cellular concrete can be used for pipe abandonments, annular space grouting, lightweight backfill and other uses where low pressure installation, in-situ uniformity and lightweight are important.
About Concrete Jack: Concrete Jack is a concrete lifting and foundation repair company based in Williamsburg, Virginia, and serving the East Coast from New York to North Carolina. Services include concrete lifting, polyurethane injection, foundation repair/underpinning, cellular concrete installation and chemical grouting/soil modification. Concrete Jack serves residential, commercial, industrial and municipal customers.